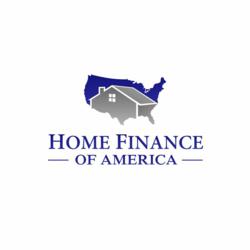 Philadelphia, PA (PRWEB) January 17, 2013
As of January 16, 2013, qualified borrowers are encouraged to lock a 15-year fixed rate mortgage at 2.625% or a 10 year fixed rate mortgage at 2.750% (APR 2.881%) with Home Finance of America. These competitive rates are at the disposal of eligible borrowers with good credit ratings seeking to refinance their home or purchase a property (with loan amounts up to $417,000). Home Finance of America's loans are typically closed within 30 days by their capable licensed loan officers and mortgage professionals.
The current national average for a loan with a 15-year term is above 2.875% in most metropolitan markets including: New York, Los Angeles, Philadelphia, and Dallas, however, Home Finance of America continues to remain below the national average with rates consistently below 2.750%. Home Finance of America ensures that borrowers are provided highly competitive rates in comparison to brand name players in the market. With consistently lower rates, more borrowers are continuing to take advantage of HFA's competitive rates, exceptional service and fast closings.
These low mortgage rates have already led to a significant increase in borrowers' refinancing their mortgages to a shorter term because, in most cases, borrowers can refinance from a 30-year fixed to 15-year fixed rate mortgage without a significant increase in their monthly mortgage payment. Additionally, buyers purchasing a new home should also consider their options in comparing shorter fixed terms to a traditional 30-year fixed rate mortgage. With rates below 2.750%, monthly payments on 15-year mortgages can be surprisingly low, and can have the additional benefit of saving tens of thousands of dollars in interest throughout the life of the mortgage.
To find out more information about Home Finance of America's loan programs, competitive interest rates, and dozens of programs – visit the company's website: http://www.HFAmerica.com or call toll free at (800)-358-5626. Loan officers are available for assistance seven days a week.
About Home Finance of America:
Since 1993, Home Finance of America has specialized in originating low rate residential loans to qualified borrowers. They are headquartered just outside of Philadelphia, PA. As a direct lender, HFA can lock-in low rates as early as the time of the borrower's application, and with an A+ rating with the Better Business Bureau; you are assured that their customer service is the best in the mortgage business. Borrowers can apply by phone by calling 1-800-358-5626 or online at https://www.hfamerica.com/mortgage-application.asp.