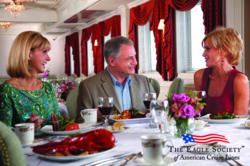 We want to reward our repeat guests for their loyalty with benefits that create the most memorable and enjoyable cruise experience possible, and one which gets better with each cruise they take. - Timothy Beebe, Vice President, American Cruise Lines
Guilford, CT (PRWEB) January 17, 2013
American Cruise Lines (http://www.americancruiselines.com), operator of the newest riverboats and small cruise ships in the United States, is pleased to announce the introduction of a renewed loyalty program, featuring new premium benefits for members. The Eagle Society is the line's way of recognizing and rewarding returning guests by providing a more personalized and enhanced cruise experience. The Eagle Society now features an expanded list of special benefits, including:
Complimentary cruise – Upon completion of 10 cruises with American Cruise Lines, Eagle Society members are rewarded with a complimentary cruise.
Complimentary shore excursions – After an Eagle Society member has cruised three times, shore excursion fees are waived on all cruises booked thereafter.
Special Eagle Society gifts – Member gifts range from customized officers jackets to champagne, and are always a guest favorite.
Membership identification – Customized luggage tags indicate Eagle Society belongings and special nametags indicate the number of cruises taken by each member.
Invitations to exclusive Eagle Society cruises – Each year, several dates are chosen for exclusive Eagle Society member cruises. These unique sailings are hosted by company executives and include special tours, receptions and entertainment.
Hometown VIP access – When a ship is in a port near a member's hometown, American Cruise Lines extends a VIP invitation to come aboard for lunch or dinner.
Non-guest visitation and dining – When in port, members may invite friends or family aboard for a tour of the ship or to join them for meals.
Eagle Society-only savings and promotions – Members are privy to various special offers.
"As far as we can tell, American Cruise Lines has the highest repeat customer rate in the industry," said Timothy Beebe, Vice President, American Cruise Lines. "We want to reward our repeat guests for their loyalty with benefits that create the most memorable and enjoyable cruise experience possible, and one which gets better with each cruise they take."
2012 was a tremendous year for American Cruise Lines and attracted more passengers than ever with the launch of its newly-built paddlewheeler Queen of the Mississippi, its debut season in Alaska, and the introduction of its newest itinerary, Puget Sound & San Juan Islands. In addition, consumers and travel agents voted American Cruise Lines the World's Leading Small Ships Cruise Line, a highly coveted award distributed by travel excellence organization, World Travel Awards.
"Many of our guests have already begun to take advantage of the new benefits, following the well-received 2012 initiatives," added Beebe. "This year will be extremely rewarding for our Eagle Society members and we look forward to welcoming them aboard."
About American Cruise Lines
American Cruise Lines, the largest U.S. cruise company, operates the newest fleet of riverboats and small cruise ships in America and offers more than 35 unique itineraries along the rivers and inland waterways of the Pacific Northwest, Alaska, the Mississippi River and the U.S. East Coast, from Maine to Florida. To learn more about American Cruise Lines, visit http://www.americancruiselines.com or call 800-814-6880. Find us on Facebook at http://www.facebook.com/americancruiselines or follow us on Twitter at http://www.twitter.com/american_cruise.