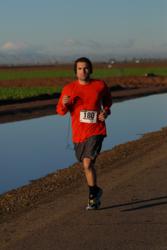 "This course really allows for a fast time ... because it's pretty flat and there aren't many turns, runners can just get in the groove and go."
Yuma, AZ (PRWEB) January 17, 2013
Marathoners looking for their place in the sun need look no further than the fourth annual Yuma Territorial Marathon and Half Marathon, coming up January 26. With a relatively straight course that shows less than 75 feet in elevation change, this "wicked fast" race sponsored by the Caballeros de Yuma is a great qualifier for Boston.
And, since the race takes place in what Guinness World Records has certified as the sunniest place in the world, a bright day is likely - and a warm welcome guaranteed.
"Our goal is to make this a big-time race with a small-town feel," said Dr. Bob Brown, one of the organizers. "The big draw is Yuma's great weather and a course designed to help you run a personal best."
This is the fourth running of the annual races organized by the Caballeros de Yuma, a nonprofit civic organization that's renowned throughout the area for its outstanding events.
The 26.2 mile course has been certified with USA Track and Field as a qualifying race for the Boston Marathon and features computerized chip timing for quick and accurate results.
Both races start and finish at Cocopah Casino, with host hotel Cocopah Resort and Conference Center located steps away for the convenience of runners -- and their supporters and cheering sections.
From the Cocopah Indian Reservation, the course passes through the small farming towns of Somerton and Gadsden and into the border city of San Luis, where runners turn around and retrace the same route north. The course takes in both classic Southwestern desert vistas and the lush agricultural fields that make this the nation's lettuce and winter vegetable capital.
Temperatures (all Fahrenheit) at the race start time of 7 a.m. are typically in the upper 40s and rise to around 70 by noon. For January 26, the average low and high are 42 and 70 and the all-time records are 24 and 82. As the sun rises, visibility in the crisp desert air can be up to ten miles.
The 2012 men's marathon winner, Dan Kuch, finished in 2:42:43; the women's winner, Amber Hansen, ran a 3:43:41. Winning times for the half marathon were 1:27:02 for Jesus Muñoz and 1:38:10 for Shelley Grisbrook.
"This course really allows for a fast time," Brown said. "Because it's pretty flat and there aren't many turns, runners can just get in the groove and go."
The first Territorial Marathon in 2010 brought nearly 200 runners to the area, and the 2012 edition drew about 50 percent more - but not the throngs of thousands that swarm start lines in large cities. And that's just fine with race organizers.
"We want this event to grow and be successful, but we're not necessarily aiming for thousands," Brown said. "We want to make it the best race ever for the people who are here."
For information or to register for the race, go to http://www.yumamarathon.com. For hotel information and reservations, visit http://www.cocopahresort.com.