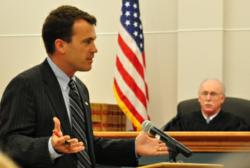 Woburn, MA (PRWEB) January 23, 2013
The trial for a decades old murder case in Lowell, Massachusetts began yesterday with opening arguments in Middlesex County Superior Court, docket number MICE2011-793 by criminal defense attorney Eric Wilson of the Nashua, NH law firm, Wilson Bush Durkin & Keefe. The case dates back to 1969 when, 15-year-old John McCabe of Lowell, MA, was returning from a school dance in Tewksbury, Mass, according to opening arguments. The young man was allegedly attacked by three youths for flirting with a girl at the dance. According to court documents, McCabe was left hog-tied in a field and later died from asphyxiation. The case went unsolved for years.
According to court documents, one of the co-defendants, Edward Allen Brown, 60, of Londonderry, NH is testifying against Michael Ferreira, 57, of Salem, NH and Walter Shelley, 61, of Tewksbury, MA, in exchange for a plea deal of manslaughter with no jail time.
The Lowell, MA cold-case murder trial is a high profile case that has garnered local and national media attention. A sixteen member jury was chosen, and Judge David Ricciardone will oversee the presentation of evidence presented by Massachusetts prosecutor, Thomas O'Reilly, and defense attorneys Eric Wilson and Stan Norkunas.
Attorney Eric Wilson's firm, Wilson Bush Durkin Keefe, has represented numerous New Hampshire and Massachusetts residents accused of serious criminal matters in both state and federal courts. Attorney Wilson's aggressive and creative defense strategies and co-counsel, Lowell, MA attorney Stanley Nokunas's experience, promises to mount a serious legal challenge for Massachusetts State prosecutor Thomas O'Reilly, and his team.