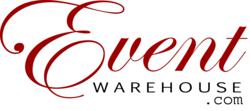 (PRWEB) January 18, 2013
Wedding season is quickly approaching, and countless numbers of couples are frantically preparing for their big day. While thoughts of the big day are so exciting it never fails that most couples don't realize just how much preparation and groundwork is required until they go through the wedding planning process. With so much that needs to get done, event planners often assist couples in choosing the right theme, decorations and other wedding props. Most couples do not wish to buy all of the props and decorations, so wedding planners often provide the Wedding Supplies.
The Event Warehouse is an online wedding supply store that specializes in working with couple and event planners to economically prepare for the big day. From wedding arches and columns to floor candelabras and tables and more, they provide various event planners with the needed materials to make the big day more special. With the busy season right around the corner, the Event Warehouse is preparing for a monumental wedding season. Based on a thorough analysis based on consumer needs, they have made instrumental partnerships with well-known wedding supply vendors and event supply companies. This is to ensure the greatest available inventory while offering low-price guarantees. As expensive as wedding columns, arches and other supplies can be, the Event Warehouse takes great pride in offering these products at wholesale prices so that couples and planners alike can share in the best deals available.
Renay Carver, owner of the Event Warehouse, is looking forward to the upcoming wedding season. "2013 is going to be an exciting year for many couples. Getting married is a life-changing event, and we want to make sure our customers' weddings have the romantic atmosphere they deserve and not go broke in the process." says Renay. "We are dedicated to providing quality products at wholesale prices so each bride can have the wedding they have always dreamed of."
For more information, visit http://www.event-warehouse.com or call 1-866-208-8633.