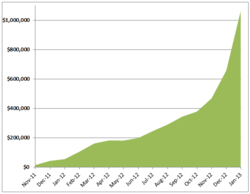 Our vision is simple; to help people make better decisions with their everyday money.
Palo Alto, Calif. (PRWEB) January 23, 2013
Pageonce introduced mobile bill pay a year ago and now sees a consistent 30% month-over-month growth in payment volume.
"I'm super excited about our growth and how many people we've helped pay bills in an easier and more efficient manner", said Guy Goldstein, CEO of Pageonce. While most bill pay options remain offline (checks and money-orders) or web-based (biller direct or online banking), consumers are changing their habits and are looking for more convenient ways to manage their bills on mobile devices. Finances are complex, and Pageonce has since 2008 taken a mobile-first approach and developed a simple, user-friendly mobile app. "Our vision is simple; to help people make better decisions with their everyday money", adds Goldstein.
Entering the Mobile Era
Pageonce - Money & Bills is the only app that brings a complete picture to everyday money needs, enabling users complete visibility into all their financial accounts in one place AND giving them the ability to take action via its integrated bill payment service.
Beyond Budgeting, Pageonce Delivers Simplicity and Action
Pageonce is by far the most useful personal finance app on the market. Not only does Pageonce enable its users to automatically track cash, bills, credit cards, and investments across multiple accounts, but it also provides bill payment functionality through its proprietary payment platform. Supporting thousands of billers, Pageonce sends bill reminders, allows people to pay from any checking account, debit or credit card, provides full bill presentment, and offers free phone support. With nearly 8 million users in the U.S., Pageonce is on a mission to simplify people's daily financial lives so they can spend less time worrying about their money and bills, and more time enjoying life.
Pricing and Availability
Pageonce - Money & Bills app is free to download on the iTunes App Store and Google Play Store.
About Pageonce
Launched in 2008 and now used by nearly 8 million customers, Pageonce – Money & Bills is a top-rated finance app, winning the Android Editor's Choice Award and Apple's Best of 2010 and 2011, named CNNMoney's "Cadillac of Money Management Apps" and featured in the iPhone and iPad App Starter Kits. Privately held and based in Palo Alto, California, Pageonce is funded by Morgenthaler Ventures, Pitango Ventures, and Silicon Valley angel investors. For more information, visit pageonce.com.
Please direct any press or media inquiries press(at)pageonce(dot)com.