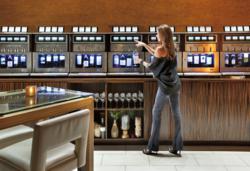 San Diego (PRWEB) January 17, 2013
Andaz San Diego has taken celebrity sightings to the next level with the addition of a red carpet collection of celebrity wines in the luxury hotel's Andaz Wine Bar. From Drew Barrymore's Pinot Grigio to musical group Train's Petite Sirah, a bevy of celebrity juice has found a home in Andaz' interactive wine dispensing machines, which can stock up to 88 different bottled wines at one time.
The addition of celebrity wines in the Andaz Wine Bar is a business move reflecting a changing culture of consumerism. While celebrities have long placed their names on various products, recent times have brought forth a rush of celebs passionate and eager to create quality wines that all levels of oenophiles can enjoy. As such, their wines have become more than recognizable names on wines of mass market quality. Andaz San Diego's new addition will allow guests to taste these A-list labels for themselves.
"As a favorite hotel and entertainment choice for celebrities, Andaz San Diego is excited to share the celebrity experience with our guests and give them an opportunity to drink with the stars," said Rusty Middleton, general manager of Andaz San Diego. "We've created a chic and affordable way for consumers to interact with some of their favorite musicians, actors and sports legends through these exciting wines."
While Andaz San Diego's signature Star, Cabana and Sweet suites have played temporary home to stars such as Daniel Krieg, now starring in the blockbuster Skyfall, Adam Levine, Robert Downey, Jr., Olivia Wilde and others, the new collection of celebrity wines will provide more permanent placement for celebrity names such as:

Drew Barrymore – Barrymore, Pinot Grigio 2011 (Italy)
Ernie Els – Ernie Els, Big Easy White 2011 (South Africa)
Ratt – Kristian Story, RATT n' ROLL "Body Talk" Chardonnay 2010 (Sonoma Coast)
Arnold Palmer – Arnold Palmer, Chardonnay 2009 (Central Coast)
Francis Ford Coppola – Francis Ford Coppola, Director's Cut Pinot Noir 2009 (Russian River Valley)
Dave Matthews – The Dreaming Tree, Crush, Red Blend 2010 (Alexander Valley)
Dick Vermeil – Vermeil Wines, XXXIV Red Blend 2008 (Calistoga)
Train – Drops of Jupiter, Petite Sirah Blend 2011 (California)
Andaz Wine Bar is a plush and decorative retreat in San Diego's famed Gaslamp Quarter, and provides its guests with bar and sofa seating made for sipping and indulging in gourmet bites. Along the north wall, guests will find a lengthy display of wines installed into seemingly endless interactive wine machines, where the wine bar's celebrity wines may be found. Guests need only purchase a pre-loaded wine card to peruse the wine bar's eighty-eight bottled wines, kept fresh by the machine's modern technology. Andaz Wine Bar is open daily and offers Happier Hour from 5 to 8 p.m. For a full list of celebrity wines, interested parties can call Andaz Wine Bar at 619.814.2055.
About Andaz San Diego:
Andaz San Diego is an urban escape known for friendly and uncomplicated service, sophisticated design and unpretentious style. Located in the heart of the Gaslamp Quarter, the cornerstone of the property is a 159 room hotel with 17 suites, each with custom fixtures and amenities, flat panel televisions and generously sized glass-enclosed bathrooms. Guests can enjoy complimentary welcome beverages while being checked in via iPads® as well as complimentary amenities such as wireless Internet, local phone calls, and a mini-bar with non-alcoholic beverages and snacks. A center of nightlife, Andaz San Diego offers guests the Ivy Entertainment experience including the Ivy Nightclub as well as the Andaz Wine Bar and Andaz Rooftop, a sultry rooftop bar and lounge with stunning skyline views, pool and private cabanas. Additional amenities include 10,000 square feet of flexible meeting and function space. For more information about Andaz San Diego, visit http://www.andazsandiego.com or call 619-849-1234.
###