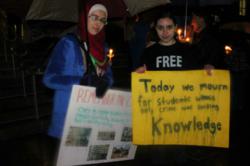 Washington, DC (PRWEB) January 16, 2013
The Syrian American Council (SAC) is joining student groups at various campuses across the country for emergency vigils in honor of the students killed Tuesday in Aleppo, Syria. According to activists, airstrikes targeted dormitories and two lecture buildings at the University of Aleppo killing more than 80 people and injuring many.
SEE: Blasts at Syrian university kill more than 80 – AP
The Local Coordination Committees, a network of opposition activists, said Tuesday's death toll was 151 including those killed in Aleppo.
The University of Aleppo was a hub for protests at the start of the Syrian revolution in 2011. It currently also houses refugees from all over Syria who had fled their homes to find safety. According to activists in Aleppo, the regime has warned residents of the dormitories to leave the area.
"As student activists, we stand in solidarity with the victims of the Aleppo university attack that took the lives of dozens of innocent people," said SAC Government Relations and Advocacy Assistant Yassar Bittar. "Assad's war machines did not spare students or refugees housed in dorms from its violence and managed to shatter their lives into pieces."
In coordination with SAC and STAND, Syrian-American college students throughout the US are organizing emergency vigils in memory of the students of Aleppo. Vigils will be held at the following universities:
University of South Florida
University of Louisville
University of Charleston
University of Florida
Arizona State University
Indiana University-Purdue
University of California, Los Angeles
University of Minnesota-Twin Cities
Wright State University
Ohio University
University of Florida
University of Southern California
University of California, San Diego
Georgetown University
University of California, Irvine
University of Texas at Austin
For a complete list of college campuses participating in this event, click here.