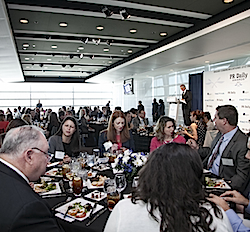 "We may be sipping bubbly, but you're going to want to take notes," says Ragan Communications CEO Mark Ragan. "These are strategies you can take home and put into practice and see the results."
New York, NY (PRWEB) January 17, 2013
Attendees at PR Daily's Digital PR and Social Media Awards Luncheon sponsored by Synaptic Digital, a Definition 6 company, this month may show up for the trophies, the champagne welcome and the opportunity to schmooze.
But with a keynote address from Gil Wolchock, executive vice president from Synaptic Digital, they'd better come ready to learn.
"We may be sipping bubbly, but you're going to want to take notes," says Ragan Communications CEO Mark Ragan. "These are strategies you can take home and put into practice and see the results."
In a keynote address Wolchock will speak on "Six steps: Change the minds and hearts of content-hungry influencers," according to Ragan Communications, publisher of PR Daily.
The 2012 Digital PR and Social Media Awards Luncheon will be held from 11 a.m. to 3 p.m. Thursday, January 24, 2013, in New York City. The cost is $395 per person.
Wolchock will present his guide to communication strategies that brands and agencies must embrace in order to identify and engage influencers. He plans to pull in case studies on how some of the world's leading brands practice influencer communications to strengthen messages in earned, owned and paid media. And he discusses content creation, from video to social media.
Attendees will learn:

How to know who the real influencers are: Free online tools that make this job easier
Why it's not enough to write good content: brands must also gather other content for their fans, followers and influencers
How to bring influencers into one's orbit as experts and helpers for one's customers
Lessons and tips for killer content-marketing storytelling
How powerful stories about customers' experiences get written
Why internal content marketing must be about an organization as well as its customers
How to find fascinating stories about employees and their jobs
The event will be held at the Roosevelt Hotel at 45 East 45th Street.
Mark Ragan and Michael Sebastian, PR Daily's managing editor, will present the awards.
ABOUT RAGAN COMMUNICATIONS:
Ragan Communications operates two of the top news and information sites for the PR and corporate communications industries: Ragan.com and PRDaily.com. Together these daily news sites attract nearly 800,000 global visitors.
The company also covers the health care and HR communication industries with its daily news sites HealthCareCommunication.com and HRCommunication.com. The Chicago-based company is also the leading provider of conferences and online training to PR, media relations and corporate communications professionals.