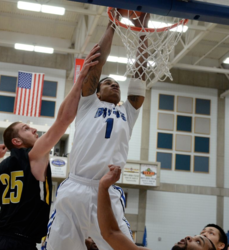 Gary Payton II is explosive, makes highlight reel types of plays and I think he's every bit as or maybe even more athletic than his dad was.
Salt Lake City, UT (PRWEB) January 17, 2013
The Salt Lake Community College Men's Basketball team (17-2, 5-0 SWAC) is on an 13-game win streak, largely due to the high level of play from its players who have grown up around family members with National Basketball Association experience. The streak of victories dates back to Nov. 23 when SLCC defeated Eastern Wyoming 85-69 and the Bruins' average margin of victory in that span is 14.7 points.
Bruin sophomore guard Tyrell Corbin (Salt Lake City, UT) is the son of former Utah Jazz player and current Jazz Head Coach Tyrone Corbin and is averaging 10.9 points per game. The West High School graduate and UC-Davis transfer is turning in 4.6 assists, 3.5 rebounds and 2.6 steals per contest. Corbin is shooting 45.8 percent from the field so far this season and is a Utah Mr. Basketball Award recipient.
"Ty is an excellent leader—he's tough, strong and does a lot of the little things well to help us win," said second year SLCC Head Coach Todd Phillips. He leads the team in assists and steals, scores the ball well for a point guard and runs the offense efficiently for us. He's a big part of our success."
SLCC freshman guard Gary Payton II is the son of former Seattle Sonics star and NBA legend Gary 'the glove' Payton and is scoring 8.5 points per game for the Bruins. The Las Vegas, NV native is turning in 6.3 rebounds, 3.7 assists and 2.0 steals per contest. Payton II is a graduate of Spring Valley High School and is shooting 58.6 percent from the field so far this season.
"Gary brings an excitement and athleticism to our team that's a key element of what we do out on the floor," said Phillips. "He's explosive, makes highlight reel types of plays and I think he's every bit as or maybe even more athletic than his dad was."
Bruin sophomore forward JuWan Buchanan also has family-ties to the NBA: he is the nephew of former All-Star and Seattle Sonics great Shawn Kemp. Buchanan is averaging 13.6 points and 3.0 rebounds per game and is shooting 49.2 percent from the field so far this season. The Yavapai Community College transfer is shooting 30.8 percent on three-point shots.
"JuWan is an ultra talented player, he does everything well—he shoots the ball well, he's big and strong and is a better defender than I think some people realize," Phillips said.
Corbin, Payton II and Buchanan hope to lead SLCC back to the National Junior College Athletic Association (NJCAA) National Tournament for the first time since the Bruins won the national title back in 2009.
Combined, the trio averages 31.1 points per game for the Bruins and is responsible for 13.1 of the team's 40.5 rebounds per contest on average. Their leadership in the locker room and on-floor experience are also key assets to the program.
SLCC is currently the only unbeaten team in the Scenic West Athletic Conference (SWAC) and with a win streak that includes victories over No. 2 Howard College and No. 13 North Idaho College has climbed to a No. 15 ranking in the latest polls. SLCC averages 87.6 points per game and allow the opposition just 60.3 points per game this season.
SLCC Men's Basketball contact: Head Coach Todd Phillips (801) 957-4956 – Todd(dot)Phillips(at)slcc(dot)edu.
About the College: Salt Lake Community College is an accredited, student-focused, urban college meeting the diverse needs of the Salt Lake community. Home to more than 62,000 students each year, the College is the largest supplier of workforce development programs in the State of Utah. The College is the sole provider of applied technology courses in the Salt Lake area, with 13 sites, an eCampus, and nearly 1,000 continuing education sites located throughout the Salt Lake valley. Personal attention from an excellent faculty is paramount at the College, which maintains a student-to-teacher ratio of less than 20 to 1.