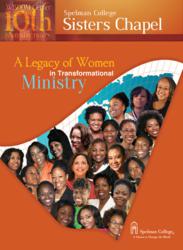 This weekend will highlight the importance of why a women's college is critical in helping to ensure that issues of gender are front and center in religious life and culture. -- Rev. Lisa Rhodes,dean of Sisters Chapel & director of WISDOM Center
Atlanta, GA (PRWEB) January 17, 2013
In recognition of its 10th anniversary, the Spelman College WISDOM Center will kick off a yearlong series of initiatives under the banner, "A Legacy of Women in Transformational Ministry," Feb. 1-3, 2013. The slate of events scheduled includes the release of an anthology and a one-day women's ministry conference. The WISDOM Center is a theological and vocational space dedicated to the intellectual, spiritual, and personal empowerment of students, alumnae, faculty and staff at Spelman College.
"This weekend will highlight the importance of why a women's college is critical in helping to ensure that issues of gender are front and center in religious life and culture," said the Rev. Lisa Rhodes, D.Min., dean of Sisters Chapel and director of the WISDOM Center. "We want to celebrate and honor sacred spaces for women to talk about the 'Holy' as they seek to better understand their calling, and integrate what it means to balance multiple roles and live out their faith. It is my hope that as a result of engaging an intergenerational community of women, including young girls between the ages of 11 and 18, conference participants will gain the tools needed to persevere as women of faith, global leaders, scholars and public servants."
The anniversary weekend celebration begins with an awards ceremony, Friday, Feb. 1 that will recognize Spelman President Beverly Daniel Tatum, Ph.D., as well as Spelman faculty, staff, and community leaders who have been influential in the ongoing development of the WISDOM Center, the programmatic and administrative hub of Spelman College Sisters Chapel. The awards ceremony will include an overview of the center's new anthology, If I Do What Spirit Says Do: Black Women, Vocation, and Community Survival, followed by a book signing. The anthology includes essays by theologians, religious scholars, preachers and community leaders who presented during the WISDOM Center's 2006 global conference. The day will end with the Wisdom Café, an evening of creative expression featuring spoken word artists, and jazz and gospel selections by faculty, staff, alumnae and students.
The women's ministry conference, "Finding Your Way Home: Transitions, Transformation and Triumph," Saturday, Feb. 2, will bring together a diverse group of women pastors, clergy wives, lay leaders and students for a series of workshops and discussions that will explore issues such as life/work balance, resources for inner strength, overcoming personal challenges, transforming the mind and spirit, and the personal and family struggles of women in ministry.
"One of the fundamental conference objectives is to nurture young adult women scholars and church leaders for 21st century global ministry," said the Rev. Rhodes.
On Feb. 2, scheduled workshops and plenary sessions include:

Understanding and Balancing Our Roles as Women of Faith
Overcoming Brokenness, Betrayal, and Bitterness
Dream a Bigger Dream
Beyond the Veil: Uncovering Your Purpose and Calling
A Return to the Sacred Feminine
Conference speakers include:

Reverend Renita Weems, Ph.D., co-pastor, Ray of Hope Community Church, Nashville, Tenn.
Beth-Sarah Wright, Ph.D., independent scholar and first lady of St. Paul Episcopal Church, Atlanta, Ga.
Lisa Williams, founder and executive director, Living Waters, Atlanta, Ga.
Reverend Natosha Reid Rice, associate minister, Ebenezer Baptist Church, Atlanta, Ga.
Reverend Melva Sampson, Ph.D. candidate, Emory University, Atlanta, Ga.
The anniversary celebration will conclude with a dynamic worship service on Sunday, Feb. 3, at Sisters Chapel with brief sermons presented by three Spelman alumnae: Jessica Davenport, C'2006, Ph.D. candidate, Rice University, Department of Religious Studies, Houston, Texas; Tiffany Thomas, C'2008, pastor; and Mia Dunlap, C'2010, teacher and associate dean of students, Excellence Boys Charter School, Brooklyn, N.Y.
The events are open to the public. To learn more about the schedule and to register, visit http://www.spelman.edu/student-life/religious-life/wisdom-center/women-in-ministry-conference. To register youth (ages 11-18), call 404-270-5729 or e-mail SistersChapel (at) spelman (dot) edu.
Follow the WISDOM Center celebration on Twitter at #wisdom10.
About Spelman College
Founded in 1881, Spelman College is a highly selective, liberal arts college widely recognized as the global leader in the education of women of African descent. Located in Atlanta, Ga., the college's picturesque campus is home to 2,100 students. Outstanding alumnae include Children's Defense Fund founder Marian Wright Edelman; Sam's Club CEO Rosalind Brewer; JPMorgan Chase Foundation President Kimberly Davis; former acting Surgeon General and Spelman's first alumna President Audrey Forbes Manley; Harvard College Dean Evelyn Hammonds; author Pearl Cleage; and actress LaTanya Richardson Jackson. For more information, visit http://www.spelman.edu.