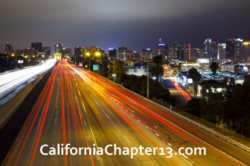 Although our new San Diego Bankruptcy Lawyer video is just one minute long, it has De Veau Dunn's unique style and voicing technique that helps brings our law firm into the modern Youtube era.
San Diego, CA (PRWEB) January 17, 2013
Breaking from convention San Diego Bankruptcy Lawyer Craig Trenton, who has been in practice for more than 25 years wanted a modern YouTube video for his law practice. As this would be Mr. Trenton's first video he said, "I wanted something stylish that would get my complimentary San Diego bankruptcy consultation message out. I also wanted it to be slightly unconventional in it's approach." After watching a few cookie-cutter videos featuring other bankruptcy attorneys on Youtube, Mr. Trenton sought out something in vogue. "I had viewed some of Mr. Dunn's consumer advocate videos and asked to meet him in person through a mutual friend," said Mr. Trenton. "Mr. Dunn is a very gifted filmmaker and I like his unique style and method of story telling, so I asked him to make a short video to promote my San Diego bankruptcy services. I really wanted to see if he could break the convention of the "boring bankruptcy" videos that have become commonplace in our industry and I must say he delivered. Although our new San Diego Bankruptcy attorney video is just one minute long, it has De Veau Dunn's unique style and voicing technique that helps brings our law firm into the modern Youtube era."
De Veau Dunn wrote, voiced and recorded the San Diego Bankruptcy Attorney video for Craig Trenton in just one day. When asked how he was able to produce the video so quickly, Dunn answered, "I was inspired and a bit flattered by Mr. Trenton's request. I just thought out the storyline and climbed into my video-editing bay. Once I pick a music track everything starts to flow for me." Dunn delivered the first cut of the bankruptcy video to Mr. Trenton the following day and it was uploaded for use on the CaliforniaChapter13 website. Soon after, the new video was tweeted and added to Mr. Trenton's Facebook page by his social media team.
"I was excited to see the client utilizing a product so quickly," continued De Veau Dunn. "I love a challenge when it comes to video production, and I wanted to take something that is usually gloomy, like a financial hardship and construct something more uplifting, a triumph of the human spirit. At the end of the day I think a promo or commercial should be inspiring as well as showcase the product or service the consumer is in need of. When I can find a unique approach to that process, it is fulfilling as an artist."
San Diego bankruptcy attorney Craig Trenton has over 25 years of experience and specializes in personal bankruptcies such as Chapter 13, Chapter 7 or Chapter 11 Bankruptcies for business owners. As a top San Diego chapter 13 attorney, Craig Trenton has helped many individuals, families and small businesses with debt relief and filing bankruptcy. Consumers seeking a 15 minute, free bankruptcy consultation can call Mr. Trenton at 619-537-6656 to schedule an appointment or visit his San Diego Chapter 13 website to see if bankruptcy may be right for them. Mr. Trenton also hosts a Bankruptcy blog and updates it with current topics such as, Bankruptcy and Back Taxes, Bankruptcy lawyers El Cajon, and many other popular bankruptcy questions.
About Craig Trenton:
Mr. Trenton has been in solo practice for over twenty years, during this time Craig has opened 4 other offices throughout the West, including offices in Texas, Oklahoma, Utah, and Arizona which specialized solely in Bankruptcy matters. Craig Trenton is a native San Diegan, who grew up in the beach areas of San Diego and graduated from University of California San Diego and attended California Western School of Law before becoming a San Diego bankruptcy lawyer.
Craig's first bankruptcy work developed in 1987 when he went to work for a large legal firm seeking an attorney with a background in real estate and tax law. He became well versed in Chapter 11, Chapter 13 reorganizations, and Chapter 7 liquidations for both individuals and businesses seeking bankruptcy filings.
Mr. Trenton has vast experience in all facets of Bankruptcy Law, and enjoys meeting with people personally to assess their situation and determine the remedies available to them. Mr. Trenton also lectures for continued legal education on Bankruptcy and Tax law and has also been awarded Outstanding Pro Bono Lawyer awards. His firms have filed nearly 10,000 cases yet Mr. Trenton takes a "hands on" personal and creative approach to each case. Although Mr. Trenton's main office deals with bankruptcy in San Diego, Craig started his California Chapter 13 website to help people seeking bankruptcy in San Diego to get the help they needed.