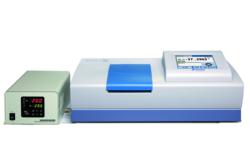 ...Robust performance and ultimate efficiency in small footprint...
Bellevue, WA (PRWEB) January 17, 2013
ATAGO's new polarimeter, POL-½ (HALF) offers robust performance and ultimate efficiency in small footprint. It requires only half the space of a conventional polarimeter. The lightning-fast response speed of 60° per second and accuracy of ±0.002° (less than 1° Angle of Rotation) indicates that the operational performance of the unit is certainly not sacrificed by its extreme compactness. The color LCD touchscreen delivers quick and smooth operations. With the intuitive user interface, it is extremely easy to view measurement results and adjust settings. The use of 100mm square cells promotes quick and accurate temperature control. The optional Peltier temperature control unit does not require the use of water. Enjoy stress-free temperature control without worrying about a water leak or cleaning. ATAGO provides full validation support to ensure compliance with all appropriate regulations.
ATAGO has over 70 years of experience in optical instrument manufacturing. Light has been the sole specialty throughout the company history. ATAGO Instruments are used in over 155 countries world-wide in many different industries. They are praised for their high durability and low failure rate around the globe.
Polarimeters are used to measure the angle of rotation, or the optical activity, of a substance dissolved in water. Specific rotation, the intrinsic peroperty of a material at a given temperature and wavelength, is then calculated by the length of the observation tube, the angle of rotation, and the concentration. Polarimeters generally have 2 scales - Angle of Rotation and International Sugar Scale known as "degrees Z." The specific rotation of pharmaceutical, fragrance, and chemical materials is measured to determine quality and ensure product safety.
If you would like more information on this polarimeter, please contact ATAGO USA at 1.877.282.4687 or customerservice (at) atago-usa (dot) com.