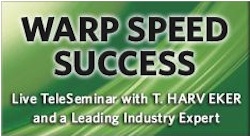 Every single Fortune 500 company started as a small business.
San Diego, CA (PRWEB) January 18, 2013
What's the difference between a Fortune 500 company and a business that fails?
According to Keith Cunningham, the real-life "Rich Dad" inspiration for "Rich Dad Poor Dad" best-selling author Robert Kiyosaki, it's not funding, products, connections or myriad other factors. It's a lack of understanding of vital business principles.
"What most people don't stop to realize is that every single Fortune 500 company started as a small business," Cunningham explains. "Their success is rooted in foundational principles that, sadly, most entrepreneurs simply don't know."
To help educate entrepreneurs about the mistakes that are likely to doom their companies to failure, Cunningham is pairing with multi-millionaire entrepreneur T. Harv Eker to offer a free tele-seminar on January 24, 2013, "The Essential Principles of Business Success from a $100 Million Entrepreneur - the Real 'Rich Dad.'
The call is sponsored by Eker's company, Peak Potentials, North America's largest personal development training company.
Participants will learn:

The single most important thing to do to accelerate business success
Why winning ultimately can prove fatal to a company's long-term success… and how to avoid the most dangerous mistake most people make when they start to do well
The commonly quoted bit of business wisdom that leads to the downfall of many entrepreneurs… and what you really must have if you want to make money in business
Why growth is NOT the right answer for the majority of businesses
4 hard-hitting questions that help entrepreneurs identify their fastest path to business success
The shocking reason why addiction can be healthy in business
And much more!
"The Essential Principles of Business Success" is a Peak Potentials' Warp Speed Success tele-webcast. "For most people, time is at a premium. They need new skills and information to remain competitive, but they don't have hours to figure out what information is worth paying attention to," Eker explains. "Warp Speed Success events deliver the essential lessons our students need to create greater success."
"The Essential Principles of Business Success" is a free virtual training program. Registration is required. To sign up, visit http://www.WarpSpeedSuccess.com.
Founded in 1997, Peak Potentials is the world's largest success training company. It has positively impacted the lives of more than one million people in at least 100 countries using internal strategies to create real-world results. Through its seminars, courses and camps, the company enables people to identify and overcome obstacles that are preventing them from reaching their full potential – personally, professionally and financially. For a complete list of seminars, courses and camps, including the Millionaire Mind Intensive, Never Work Again, Guerrilla Business School, Enlightened Warrior Training Camp and more, visit http://www.peakpotentials.com or call 1.888.868.8883.