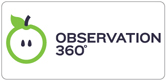 SALT LAKE CITY (PRWEB) January 17, 2013
A recently released eSchool news article shows how School Improvement Network's Observation 360 stacks up against other teacher observation products by making observations professional growing experiences that increase teacher effectiveness.
"If done correctly, teacher observations can be extremely helpful in a teacher's professional development and growth," said School Improvement Network CEO and President Chet Linton. "To do this, observations must help teachers identify what they're doing well, ways they can do better, and connect them with the resources and mentoring to improve in those ways. They need to see examples and they need guidance. Observation 360 makes those connections between teachers, administrators and professional development resources to make every observation a step towards more effective teaching."
School Improvement Network's Observation 360 lets educators track and manage their school or district's teacher observation forms, data, notes and professional development assignments in a single, online platform. Educators can build a customized observation template, or use one imbedded in Observation 360 built by experts, and give their teachers immediate feedback paired with prescriptive professional development to foster growth and development.
Click here to read the full article.
Click here to learn more about Observation 360.
About School Improvement Network
Founded in 1991 by teachers, School Improvement Network has spent decades researching and documenting the best practices in education. From this research, School Improvement Network has developed the Educator Effectiveness System. This system outlines a process to improve teacher practice, and arms educators with a set of powerful tools to drive the process. Research shows that districts and schools that use the tools in the Educator Effectiveness System produce better teachers, and as a result experience dramatic increases in student achievement, driving up student test scores by as much as 30 percent in a single year. School Improvement Network works with thousands of schools and districts in every state and around the world and has visited over 3,500 classrooms to document best practices in action. Learn more at http://www.schoolimprovement.com.
School Improvement Network and its logos are trademarks of School Improvement Network. All other trademarks and registered trademarks are the property of their respective owners.