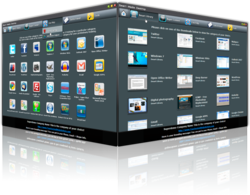 The single biggest problem with communication is the illusion that it has taken place.
― George Bernard Shaw
Henderson, Nevada (PRWEB) January 17, 2013
Smart Media Technologies has announced the release of some great new additions to Smart Mail. This is just one of its no cost products offered through Home Page Pays. Smart Mail is a new way to communicate online. It's similar to e-mail but without all the hassles of email. It is 100% safe, secure and spam free.
Standard email is easy for anyone to get someone's email address either by purchasing it from an outside source, using bots that randomly generate all possible addresses, or bots that crawl the web and harvest them. So obviously people who go to such great lengths to get them are not friends and their intentions are not in the best interest of the e-mail owner. But none of this is possible with Smart Mail which is actually better than having an unlisted phone number because even if someone gave someone a users address they still could not use it without the users permission. And the user can even withdraw that permission at any time.
Smart Mail is secure and was created by programmers who are experts in online bank security and have worked together in that field for SMTs founder for the past 13 years. Now provided that the user uses a secure password there is no more risk of someone getting into their Smart Mail than there is their own online bank account. It is also free from viruses and phishing emails that are far too common in standard e-mail.
The new additions to Smart Mail include a contact management system that allows users to organize their contacts into groups such as family, friends, close friends, co-workers, customers and business associates, for example. This makes it easy to send information to an entire group when needed.
There is also a new feature for group communication. When a group wants to discuss an idea and everyone cannot be online at the same time they often use e-mail and choose the "reply all" feature. The problem that occurs with that is after the first reply people start replying to other people's replies without referencing what they were answering. Also, finding what one person said requires reading the entire e-mail completely through to find what one person has said. It also produces a lot of single emails that one must sort through to try and follow the conversation and many times someone in the group will forget to hit "reply to all" and it quickly spirals out of control. But with this new feature once the original Smart Mail is created it will keep track of every single person in the conversation so that all users know who said what, in reply to what, and even if one of the users forgets to hit "reply all."
There is no need to read through each person's reply by opening up each one the user simply opens the last one that came in. It will contain everyone's communication with a small avatar picture next to each one so you can quickly find who said what to who and when. This is a powerful business tool for project development or simply for family or friends planning a family reunion or an informal get together.
About Smart Media Technologies
SMT offers the solution to the number 1 problem plaguing 99% of all websites: getting their visitors to return. By allowing businesses to brand our Multi-million dollar PC Application and give it away for free to their clients, we allow them to remain in constant contact as well as keep their product or brand on the top of their customers minds. Our system allows their brand to follow their customer wherever they go online.
To learn more about Smart Media Technologies or Home Page Pays visit their website at: http://smartmediaplay.com