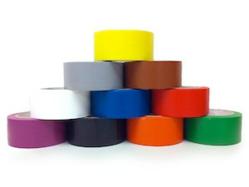 "We use this tape all the time since we found out the marking tape is easier to apply and remove than using paint."
Lake Oswego, OR (PRWEB) January 24, 2013
Most business owner's primary concern is for the safety of their employees as they go about their work in the facility. One way to create safety in the workplace is by making sure equipment and containers are arranged in neat and orderly compartments and marked off in specific zone areas. Creative Safety Supply has made it simple and easy to mark off possible hazard zones and safety aisles by now offering Aisle Marking Tape. Aisle marking tape is an excellent method of setting out boundaries and designating pathways. An empty floor that has no markings at all is just asking for disaster, with the clutter and disorganization that are bound to follow in the wake of human and mechanical traffic.
Aisle marking tape's primary function is to provide organization. OSHA guidelines require aisles and passageways to be clearly marked, however, the exact specifications for these paths vary depending on what is passing through. For example, vehicle aisles or those that anticipate heavy machinery will be much wider than those intended for people. The main focus with marking aisles and pathways is that they are visible and properly marked.
The main purpose of aisle marking tape is to enhance safety conditions, especially when hazardous materials or potentially dangerous equipment is present on the floor. Using aisle marking tape to create a perimeter of warning around a specific area will forewarn employees and other people who may be passing by that there is something within in the marked area that could cause injury. OSHA has recommended a color coding system for marking tape that will minimize workplace accidents and contribute to an overall healthier working environment.
Creative Safety Supply has an abundance selection of aisle marking tape for creating the right markings needed in each unique situation. Aisle marking tape outshines paint when it comes to durability, cost, simple and easy application, and clean removal. A plant manager commented, "We use this tape all the time since we found out the marking tape is easier to apply and remove than using paint."
For more information about aisle marking tape, please visit http://www.creativesafetysupply.com/Aisle-Marking-Tape or call toll-free (866)777-1360 to speak with a professional representative.