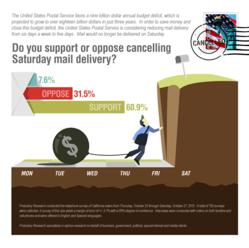 60.9% support cancelling Saturday mail delivery
Newport Beach, CA (PRWEB) January 17, 2013
From Thursday, October 25 through Saturday, October 27, 2012 Probolsky Research conducted a telephone survey of likely California November, 2012 General Election voters.
Our research revealed that, in the light of the United States Postal Service's ongoing financial crisis, a majority (60.9%) of respondents support cancelling Saturday mail delivery. 31.5% oppose the proposal and 7.6% were unsure or refused to answer.
We asked, "The United States Postal Service faces a nine billion dollar annual budget deficit, which is projected to grow to over eighteen billion dollars in just three years. In order to save money and close this budget deficit, the United States Postal Service is considering reducing mail delivery from six days a week to five days. Mail would no longer be delivered on Saturday. Do you support or oppose cancelling Saturday mail delivery?"
A total of 750 surveys were collected. A survey of this size yields a margin of error of +/-3.7% with a 95% degree of confidence. Interviews were conducted with voters on both landline and cell phones and were offered in English and Spanish languages.
Probolsky Research specializes in opinion research on behalf of business, government, political, special interest and media clients.