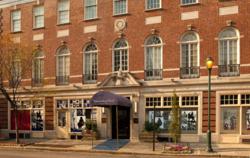 Philadelphia, PA (PRWEB) January 17, 2013
Chocolate and Valentine's Day have long been coupled together, but this year, The Independent Hotel in Center City Philadelphia puts a singularly Philly spin on the pairing. The hotel is hosting a Wine & Chocolate Tasting featuring Philadelphia farmer's market favorites, chocolatiers John & Kira's on January 30 to celebrate the launch of The Independent Hotel's Valentine's Day package featuring these local chocolates.
The Independent Hotel's package 'Love, Philly Style', available for the month of February, includes deluxe accommodations, complimentary parking, a bottle of sparkling wine, John & Kiras' Salty Light and Deeply Dark Chocolates and a special Philadelphia LOVE welcome amenity courtesy of the Greater Philadelphia Tourism Marketing Corporation.
"Whether you have someone special or just love to celebrate the holiday, nothing says Valentine's Day better than chocolate," said Leah Lucas, general manager of the Independent Hotel. "Philadelphia has a thriving food scene that has gained national attention. That's why it seemed so natural to include a locally sourced, artisanal product in our package and to feature them at our upcoming event."
The Independent Hotel's Wine & Chocolate Tasting is taking place on January 30 from 6:30 p.m. to 8:00 p.m. in its lobby at 1234 Locust Street. Guests will enjoy a sampling of John & Kira's gourmet chocolates thoughtfully paired with a selection of wines. Guests will be able to meet co-founder John Doyle of John & Kira's, who will speak about the beginnings of the company and their unique artisanal process as guests sample their delicious chocolates. The reception is open to the public, but RSVP is required. RSVPs should be sent to: events (at) independentcollection (dot) com.
The package starts at $179 per night and is available to book through February.
About The Independent Hotel:
The Independent Hotel is a stylish 24-room boutique property located in the heart of Philadelphia's Midtown Village — arguably the city's current cultural epicenter. The Independent Hotel offers guests a charming and intimate atmosphere, seamlessly intuitive service, well-appointed rooms and the perfect address from which to explore the city. Complimentary continental breakfast is delivered to your door and the hotel offers complimentary Wi-Fi throughout.
About The Independent Collection:
The Independent Collection is a growing collection of smaller, more intimate boutique lifestyle hotels located in truly unique neighborhoods of gateway cities across the US. The hotels of the Independent Collection are developed for the independently minded traveler and invite guests to experience the true spirit of the city.
About John & Kira's:
John & Kira's is a socially innovative chocolate company dedicated to both making and selling world class confections and promoting positive social change. Co-founders John Doyle and Kira Baker-Doyle both felt the itch to start an entrepreneurial venture back in September 2000. John, after a short stint in banking, made a career switch into the kitchen at various restaurants in Manhattan and Philadelphia. Kira was completing a Master's in Education at the University of Pennsylvania and working closely with an urban school garden project. Since the 2003 Gourmet Magazine article, John & Kira's concept and the company have grown steadily. They have expanded their chocolate line to include chocolate ladybugs and chocolate filled figs from an organic, family-owned farm in Spain. Their chocolates, recently featured on the Martha Stewart Show and in Oprah Magazine, are available online at http://www.johnandkiras.com or by calling 800.747.4808.
About HHM:
HHM, formerly known as Hersha Hospitality Management, operates 115 hotels across the United States. It provides turnkey hotel management, asset management and receivership for properties with leading brand affiliations through Marriott, Hilton, Hyatt, Starwood, and Intercontinental Hotel Group. HHM also operates 14 independent hotels ranging from the AAA Five Diamond Rittenhouse Hotel in Philadelphia, to the oceanfront Postcard Inn in the Florida Keys. Its highly experienced team is accustomed to serving as a fiduciary to publicly traded companies, joint ventures, institutional real estate owners and private investors. Additional information on HHM can be found at hhmhospitality.com.