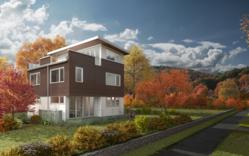 Attendees will get a life-size experience as to what it would be like to live in one of our homes. Most visitors won't even realize they are walking through a modular home. The difference is indiscernible.
Seattle, WA (PRWEB) January 17, 2013
In 2012, Greenfab built the first LEED Platinum Modular Home in the State of Washington. Now, during the 2013 International Builders' Show (IBS), Jan. 22-24 at the Las Vegas Convention Center, Greenfab, a Seattle modular home provider, will have two modular homes open for viewing.
The reputation of Greenfab earned an invitation to build these homes, which will be displayed in the Show Village, sponsored by Professional Builder Magazine. They will be providing two of the three homes on display at this show. The National Association of Home Builders (NAHB) sponsors IBS, the largest residential construction trade show in the world.
Modular construction, often mistaken for mobile or manufactured housing by the uninitiated, is hitting a tremendous growth spurt. Consumers are becoming more aware of its efficient use of materials, decrease in construction time, and increased quality control.
Blogs like Jetson Green, Inhabitat, and Treehugger have trumpeted the value of modular construction for years. And now, modular construction is catching the attention of homeowners, builders, and developers alike. "We are demonstrating that modular construction is an important tool for making quality, sustainable homes available to the masses," says Swen Grau, Partner at Greenfab.
A complaint often heard about modular construction is that consumers have limited floor plans to choose from. Greenfab has taken a bold step forward with its business model and now offers customers the option to design their own homes. "Many prefab companies won't build a custom, prefab home. But technology, engineering, and architectural understanding of modular construction procedures have progressed to the point that we can design and engineer a custom, modular home as easily and inexpensively as we could if the home was site-built," says Grau.
Greenfab's homes at IBS will target a LEED for Homes Platinum Rating. Yet these models don't skimp on luxury to save on electricity. Johnny Hartsfield, the Founding Partner at Greenfab, says that "with a remote-controlled, five-head shower in Greenfab's 2100 Series home, indoor/outdoor fireplace in Greenfab's 2300 Series home, and the best in HVAC equipment for indoor temperature and air-quality control, we're showing the world that owning a green, modular home can offer the best in living amenities."
The trend in modular homes, such as those seen in publications like Dwell Magazine, is to design them with a very modern edge. These homes will demonstrate to IBS attendees that modular, green homes come in many shapes and sizes. While the 2100 Series home embodies the modern trend that is pervasive with many of the new prefab homes, the 2300 Series home (Greenfab's newest offering) demonstrates the flexibility that modular construction offers with this beautiful, yet practical, Craftsman style home.
Greenfab's homes will be constructed in their entirety and open for viewing in the Professional Builder's Show Village at the 2013 IBS. "We don't want to leave anything to the imagination," adds Johnny. "These homes will be completely livable when they are constructed in Las Vegas. Attendees will get a life-size experience as to what it would be like to live in one of our homes. Most visitors won't even realize they are walking through a modular home. The difference is indiscernible."
About Greenfab
Founded in January 2009, Greenfab sells green, prefabricated, modular homes at an affordable starting price with a personalized, turn-key service that takes the headache out of building a new home. Greenfab realizes that many families have needs that are in conflict with limited budgets, health problems, and environmental concerns. Greenfab seeks to provide affordable solutions to these consumer challenges. For more information, visit http://www.greenfab.com