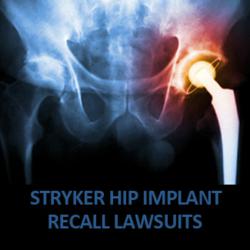 If you or someone you love were injured by Stryker Rejuvenate and ABG II Modular-Neck Hip replacement device, please visit yourlegalhelp.com, or call toll-FREE 1-800-399-0795
Columbus, OH (PRWEB) January 17, 2013
Wright & Schulte LLC, a leading defective medical device law firm, is investigating potential Stryker hip implant recall lawsuits on behalf of individuals impacted by the recent Stryker Rejuvenate and ABG II Modular-Neck Hip Stem recall. Wright & Schulte LLC urges anyone who had a Stryker hip replacement implanted to undergo follow-up screening with their doctors. The Stryker hip replacement recall was announced in July 2012 after postmarket data indicated the metal components were prone to corrosion and fretting at the modular neck junction.
http://www.fda.gov/Safety/Recalls/ucm311043.htm
Wright & Schulte LLC is offering free personal injury lawsuit consultations to individuals who suffered serious complications due to the recalled Stryker Rejuvenate and ABG II Modular-Neck Hip Stem recall, including:

Metallosis
Tissue death
Osteolysis
Damage to bone and tissue
Inflammation
Premature failure of the implant
Infection
Loosening of implant
Formation of pseudotumors
For more information on filing a Stryker hip recall lawsuit, or to arrange for a free legal consultation, please visit yourlegalhelp.com.
According to Stryker, some 20,000 Rejuvenate and ABG II Modular-Neck Hip Stems were sold globally between their launch in 2009 and the recall. If you received your hip between 2009 and August of 2012 and are experiencing pain, swelling or other symptoms of a failing hip, it is possible that you received a Stryker Rejuvenate or ABG II Modular-Neck Stem.
On its website, Stryker is advising that all patients implanted with these hip components undergo follow-up screening with their doctors, as some patients have tested positive for high levels of metal ions and adverse local tissue reactions even in the absence of symptoms. Your doctor may order blood and imaging tests to determine if the device is functioning properly. Patients with one of the recalled Stryker hip components may have to undergo painful revision surgery to have the device removed or replaced if their hip implant has failed.
http://www.stryker.com/en-us/products/Orthopaedics/modularneckstems/index.htm
A number of Stryker hip implant lawsuits have already been filed by individuals allegedly injured by the Rejuvenate and ABG II implants. In September, plaintiffs who have filed such claims in New Jersey Superior Court requested that all lawsuits pending in the state be centralized in a single proceeding in Bergen County.
[judiciary.state.nj.us/notices/2012/n121024f.pdf]
About Wright & Schulte LLC
Wright & Schulte LLC, a leading personal injury firm, is dedicated to the belief that America's legal system should work for the people. Every day, the attorneys of Wright Schulte LLC stand up for the rights of people who have been injured or wronged, and fight tirelessly to ensure that even the world's most powerful corporations take responsibility for their actions. If you're looking for a law firm that will guarantee the aggressive and personal representation you deserve, please do not hesitate to contact Wright & Schulte LLC today. Free case evaluations are available through yourlegalhelp.com, or call 1-800-399-0795.
Contact:
Wright Schulte LLC
812 East National Road
Vandalia, Ohio 45377
1-800-399-0795