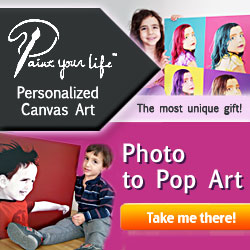 North Miami Beach, FL (PRWEB) January 17, 2013
The holiday season is officially over and despite opening a new website, Paint Your Life has had record breaking holiday sales. A new website brings with it a certain amount of uncertainty and doing so right before the Christmas holiday season only adds to this risk. However the record breaking sales offer proof that they are on the right track.
Fortunately, the unique concept of creating paintings from photos has attracted a lot of attention from those customers who were looking for a wonderful gift for that someone special on their holiday shopping list. Customers can choose photos on canvas created using digital printer or choose to have a hand crafted painting by one of their master painters.
One of the more common gifts ordered this year seems to have been family portraits as these tend to make exceptional gifts. A family portrait is the perfect gift for grandparents and is a far better choice than the standard 8 x 10 photograph that has been a mainstay for years. Whether customers choose to have Paint Your Life create a photo on canvas using their digital printers or a hand crafted painting from photo to adorn their walls, the results are amazing.
While oil is considered to be the traditional medium of choice for portrait work, Paint Your Life artists are chosen for their ability to work in a number of popular mediums. Customers can for instance, order a charcoal version of their original photograph and receive a stunning black and white rendering that gives their photograph an entirely new look.
Many feel that charcoal is the ideal medium as it adds a stark yet soft look to those in the picture. Of course all charcoal works are permanently sealed with a special spray sealer that ensures the finished work will not smear. The artists can render an exact copy of the original photograph or they can take only one person from a group shot and create an individual portrait.
Having had such a remarkable opening and holiday season, Paint Your Life is looking forward to a great year and has plans to offer a number of specials throughout the coming months. From special holidays such as Valentine's Day to birthdays and anniversaries, a handmade portrait from the highly skilled artists at Paint Your Life makes an outstanding gift that is sure to be appreciated for many years. Customers can also place their orders by visiting the company's website.
PaintYourLife.com, a world leader in personalized pop art canvas offers a wide array of photo to painting options for their customers to choose from. These can all be seen at their new location in North Miami Beach. For more information contact PaintYourLife at 3479 NE 163rd St. North Miami Beach, Florida.