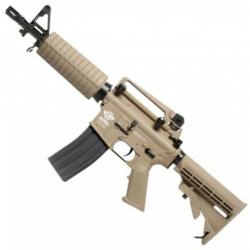 Get Realistic ar15 airsoft rifles at your #1 airsoft store.
Morgan Utah (PRWEB) January 17, 2013
G&G Air-soft products are now available at Action Center Paintball and Paintballguns.tv. Airsoft guns and ammunition are available and in stock.
G&G is always trying to find new designs and new materials for their products and new systems to make their products stronger and more competitive. G7G uses the "CNC" shift operation to make parts and make them more similar to the real firearms.
G&G always focuses on customer's ideals to upgrade parts to make the product lifeline more and more perfect. Customers can own a high quality Airsoft gun made by G&G Airsoft.
G&G is constantly researching new ways to innovate designs and materials to ensure the best quality of their products. All G&G products are designed and built with computer assisted design tools such as Computer Numerical Control (CNC) turning operation to ensure tight precision and quality.
G&G values customer feedback, incorporating suggested improvements and upgrades to their future products. All G&G products are proudly made in Taiwan.
It is with G&G's vision that the customer can enjoy the best experience using Airsoft products, and they strive in delivering the best quality product as the key to success.
In addition to the design and manufacturing of high quality Airsoft guns, G&G also offers OEM and ODM services for Airsoft and firearm manufacturers. G&G supplies a wide variety of replacement components to their distributors and as well as dealers.
G&G is committed to the best service support for our customers. G&G have a dedicated service for order repair part. G&G provide a step-to-step instructional video on official website for our customers to facilitate the service of our products.
For more information on Air-soft visit:
http://www.actioncenterpaintball.com/Airsoft-Airsoft-Guns-Airsoft-BB-s/
http://www.paintballguns.tv