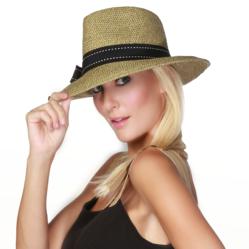 SolEscapes.com is the go to place for vacation sun hats.
Kentfield, California (PRWEB) January 17, 2013
SolEscapes announces a new selection of packable sun hats from Physician Endorsed, Gottex and Profile by Gottex. Hats come in gorgeous designs and colors, ranging from simple cotton bucket hats to dramatic wide brimmed ribbon hats and trendy fedoras to chic sparkly cloche hats. Colors range from classic white and black to vibrant jewel tones and metallic accents. The new selection includes a large offering of exquisite packable straw hats in beautiful colors and styles. Hats are designed to be stylish, comfortable to wear while giving you maximum sun protection.
SolEscapes makes it easy for vacationers heading to warmer climates this winter to bring a fashionable sun hat on their getaway whether going to the Caribbean, Hawaii or any other exotic local. To facilitate shopping, sun hats are categorized by activity and style. There is a style perfect for most any activity whether spending a day at the beach, lounging by the pool, strolling on a cruise deck or attending a beach wedding. Most hats are designed to travel and the ones that are packable are clearly labeled.
Resort and cruise getaways call for style and glamor. Dramatic brims, fine materials and a little touch of sparkly make for a perfect resort hat. Beach hats are usually made of lightweight and breathable materials in fun colors that dry quickly. Cotton and straw hats are great choices for the beach and a classic stripe is always in style. A wide brim gives the beach-goer much needed shade and sun protection.
4 Trendy Sun Hat Styles:
•Bimini – This 6 inch wide brim ribbon hat is chic, fun and easy to wear. It has memory wire to allow for individual styling and comes in 5 eye popping hues to compliment your swimsuit or outfit: turquoise, royal blue, Aegean blue, chocolate, white, and black. It's a perfect hat for the beach, pool and beyond. See Profile by Gottex -Bimini Sun Hats.
•Rich Pitch – This packable trendy Fedora from Physician Endorsed is a versatile hat just as right for the beach as it is for a city lunch. The 3-inch brim gives good sun protection and the adjustable internal drawstring ensures a perfect fit. Comes in brown toast with navy ribbon or black tweed with black ribbon.
•Nauru – Elegant straw hat with a touch of sparkle. Metallic gold thread is carefully woven into straw braid to create this glamorous resort hat. It is guaranteed to be a head turner by the pool. This Gottex hat comes in a beautiful turquoise, classic white and black.
•Tara – Fantastic micro-terry hat in white or black. It's lightweight and wicks water away so it dries quickly if it gets wet at the beach or the pool. The 4-inch brim gives ample coverage from the sun, a true beach & pool hat from Profile by Gottex.
With 120+ styles in stock, SolEscapes.com is the go to place for vacation sun hats. Most sun hats have been tested and rated for 50+ UPF (the highest rating available) for maximum sun protection. Physician Endorsed sun hats are the hat of choice for dermatologist, consumers and celebrities alike.
Coming soon is a new line of exclusive microfiber beach and pool travel towels in a luxurious size and a beautiful print. These gorgeous beach towels bring your travel towel to a whole new level.
SolEscapes is a California based online boutique offering a unique selection of stylish and practical sun, beach and resort essentials for all your warm weather needs. SolEscapes offers personalized service, high quality products and fast affordable shipping. Merchandise including all beach bags is carefully and beautifully packaged to ensure a perfect arrival. For more information please visit SolEscapes.com. You can also connect with SolEscapes on Facebook, Twitter and Pinterest.