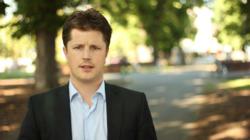 When you look at it from a strategic perspective, holding the audience and developing and cultivating an audience is really a new opportunity for entrepreneurs. And I think we saw early on that that was going to be a powerful, powerful opportunity
Melbourne, Au (PRWEB) January 18, 2013
The Multimedia Marketing Show with Jake Hower recently released a podcast interview of Dan Andrews from Lifestyle Business Podcast on how to build an online audience through podcasting.
When asked why he decided to start a podcast, Andrews gave an overview of the importance of content marketing for entrepreneurs.
"When you look at it from a strategic perspective, holding the audience and developing and cultivating an audience is really a new opportunity for entrepreneurs. We're still sort of getting used to what that means for business. And I think we saw early on that that was going to be a powerful, powerful opportunity," explained Mr. Andrews.
"At the same time we started our cat furniture business, one of our favorite bloggers in that space, Kate Benjamin from moderncat.net, started a cat furniture blog. You can probably guess what the punch line is five years later who's doing better in that niche. It's definitely Kate. Twenty-seven thousand subscribers strong, she's got a passionate audience that put her at the focal point of the industry. She can talk to anybody. She's got better information, and if she wants to start a cat furniture business, she is in a much better spot than me sitting in a quiet room somewhere having some great grand vision of what my next piece of cat furniture is going to look like," he continued.
Jake Hower agreed with Andrews.
"That's incredible and you're right. As an entrepreneur and business owner myself, I am just starting to realize that there are such great opportunities out there to become an authority in the market. Of course, the premise of the show is that we're trying to introduce our listeners to all forms of content marketing and give them some strategies on how they can just get out there and implement it in their business," said Mr. Hower.
Business owners who want to learn more about developing an audience via podcasting can listen to the full in-depth interview at The Multimedia Marketing Show website.
About The Multimedia Marketing Show with Jake Hower
Too many people focus on short-term "push button riches" sales strategies. The Multimedia Marketing Show's focus is on long-term sustainable solutions that build out the authority in a particular market.
Business owners who implement the strategies taught in The Multimedia Marketing Show's podcasts and videos will increase authority and build a defensible business that competitors cannot easily replicate.
Tap into the video marketing expertise at The Multimedia Marketing Show with Jake Hower.
About Jake Hower
Jake is a co-director of Pan Australian Travel. He joined his current business partner as a director in 2009. He has extensive travel industry experience, having worked in various senior positions before joining the company. Jake's role within the company has him overseeing marketing, client management and new client acquisition, with a focus on driving innovation through the entire group. Jake is a member of Entrepreneurs Organisation (EO) and is actively involved in various travel industry associations.