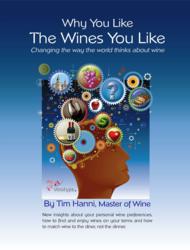 "I am on a mission to have everyone learn to pair wines with the diner, not the dinner."
Napa, CA (PRWEB) January 17, 2013
"Why You Like the Wines You Like: Changing the way the world thinks about wine," a revolutionary and personal approach to wine and food enjoyment based on the latest palatal and consumer research, was published this week by author Tim Hanni M.W. ($24.95, 250 pages, b&w photos and illustrations). This introductory volume for The New Wine Fundamentals wine education program is based on two decades of research by the author and many research colleagues. Hanni's wine and food principles were adopted last year and taught as part of the Advanced Diploma curriculum for the Wine & Spirits Educational Trust. "Wine and food pairing has become an imaginary and metaphorical exercise with little basis in reality," Hanni says. "I am on a mission to have everyone learn to pair wines with the diner, not the dinner."
The new approach segments consumers by Vintoypes®, a combination of perceptual sensitivity from Sweet to Tolerant, and takes into account psychological factors accounting for wine preference changes over time. "Our observations of sensory sensitivity differences begin in childhood at the dinner table," Hanni explains, "where of three children one will happily eat broccoli, one will eat it with a bit of reinforcement. The 'bad' child, usually the one with the greatest perceptive sensitivity, will be punished for refusing to eat it when he or she simply has a much higher level of taste perception. Our preferences, for both wine and foods, continue adjusting through life due to learning, new experiences and different social environments. No wine expert can tell you unilaterally what is right or wrong on a personal level unless they understand your Vintoype – your personal sensitivities and preferences."
A Vinotype assessment consists of various questions that help us determine your sensory sensitivities and tolerances (sweet, hypersensitive, sensitive or tolerant) combined with questions that determine your aspirations and level of interest in wine. The result is your Vinotype – the unique combination of sensitivities and values that comprise your wine personal preferences. "Our findings are challenging many of the myths and misunderstandings of the 'Tyranny of the Minority' of wine experts including the entire concept of wine and food pairing," says Hanni. "The mission is to expand enjoyment and end the intimidation that associated with wine."
Tim Hanni, one of the first two Americans to earn the title of Master of Wine. He is an industry consultant and educator, hailed by the Wall Street Journal as "The Wine Anti-Snob" and is on faculty at Sonoma State University's Wine Business Institute. Hanni is a widely recognized leader in developing wine marketing and education programs around the world and is involved in sensory and behavioral research projects to foster a better understanding of consumer wine preferences.
"Why You Like the Wines You Like" is available in hard copy for $25.00 and in Kindle e-book format for $19.99, both from Amazon.
http://www.amazon.com/Why-You-Like-Wines-Changing/dp/0615750885/ref=sr_1_1?s=books&ie=UTF8&qid=1358211249&sr=1-1
Contact:
Patricia Schneider
415-717-7595
psa(dot)patricia(at)gmail(dot)com