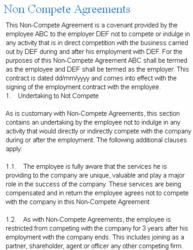 Non Compete Agreement is important for companies to ensure that her own employee do not involve in business or activity that amount to direct competition to business of the company during and after his employment with the company
New York, NY (PRWEB) January 17, 2013
Today Laws.com announced the launch of Non Compete Agreement. The Non Compete Agreement launched by laws.com can be accessed from the sites document section. The Non compete agreement from laws.com is the first agreement to be released by laws.com in 2013. The company is said to working on various contract agreement, rental agreement and forms to be released in coming days.
Non Compete Agreement is important for companies to ensure that her own employee do not involve in business or activity that amount to direct competition to business of the company during and after his employment with the company. Non Compete Agreements are used by large corporate houses but recently small business started to understand the importance of Non Compete Agreement and the proper Human resource management for the success of the business.
The small businesses that run on a tight budget and virtually have no HR team are in general avoids many recruitment and staff management process. The small businesses that want to have Non Compete Agreement to be signed by their employee can visit laws.com and freely download the Non Compete Agreement. The Non Compete Agreement can be changed to reflect the company name and can include any other terms and conditions specific to company or industry in which the company operates.
To download the agreement visit Non compete agreement page. Once download change the following detail in the agreement to reflect your company information.

Change the date in contract to date in which contract is signed
Change the 'ABC' to the employee Full name with employee id
Change 'DEF' to the name of company
Add any specific terms and condition related to your company
Laws.com is online law resource website providing various legal resource including free legal forms, state and federal acts, court cases and lawyer directory. The site host more than 25000 legal forms and have video guides to fill major forms.