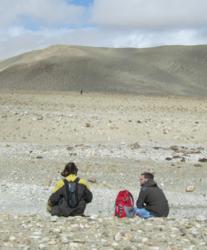 Tibet Trekking can be far unique and needed experience for every Tibet adventurers.
Lhasa, Tibet (PRWEB) January 19, 2013
According to TCTS's newly releases for 2013 Tibet trekking programs, here below is the overview and outline of those trekking packages. No matter which Tibet trek itinerary they provide, travelers can surely ask them to tailor make it further to suit their very personal needs. Example for a Gandan to Samye monastery trekking, people can finish this trekking in 3 or 4 days or even in 5 days time; there are different roads to trek along with, it totally depends on traveler's personal interests, health situation, Tibet travel budget and schedule.
Overview of these Tibet trekking programs:
→ No.1 Ganden to Samye monastery trekking
Routine outline: Day 01 to day 04: rest and tour sightseeing in Lhasa
Day 05 drive to Ganden monastery, light trekking
Day 06 to day 09: Trek to Yama Do-to Tsotup Chu Valley- Herder's Camp-Samye Monastery
Day 10: Samye-Tsetang (Tibet culture cradle), rest
Day 11: Explore Yarlung Valley: Yumbulagang, Tibetan kings Tombs, Tramdruk
Day 12: Drive to Gonggar airport and Departure
→ No.2 Old Tingri to Everest Base Camp Trekking
"Trekking to Everest from Old Tingri town, this is no doubt one of the most famous Tibet trekking adventure program." The general manager, Tony from TCTS travel agent said, "Adventurers from around the world prepare long time for the tough adventure since it is not cheap and very much difficult for trekking on such high Tibet altitude". For this Tibet adventure travel reviews, travelers can contact Tibet enthusiast Devin Moore from Missouri, USA.
Routine outline:
Day 01 to day 03: rest and tour sightseeing in Lhasa
Day04 Lhasa-Shigatse city [3900m], the 2nd largest city in Tibet
Day05 Drive to Old Tingri
Day06 Trek to Lungthang [4510m]
Day07Trek to Lamna La [5150 m]
Day08 Trek to Zommug [4790 m]
Day09 Trek to Rongbuk-Everest Base Camp
Day10 Rongphu-Everest.B.C further excursions and then drive back to Shigatse, o/n in Hotel
Day11 Shigatse-Gyantse-Lake Yamdrok-Lhasa
Day12 Lhasa-Airport or train station transfer, leave Tibet for Nepal or China for both of which we can organize the additional tours.
→ No.3 Tsurphu Monastery to Yangpachen Hotspring Trek
5300m at the Lasar-la, combining alpine tundra and sweeping mountain panoramas with visit to monasteries and a nunnery, this Tibet trekking nicely balances cultural and wilderness activities. The Best time for this trekking is from mid- April to mid of October.
Routine outline:
Day 01 to day 03: rest and tour sightseeing in Lhasa
Day04 Lhasa-Tsurphu Monastery
Day05 Tsurphu Monastery- Leten, trekking 4 hours, 11km
Day06 Leten-Bartso, trekking 5-6 hours, 15km
Day07 Bartso-Dorje Ling Nunnery, Trekking 4 hours, 15km
Day08 Dorje Ling Nunnery-Yangpachen Monastery/Yangpachen Hotspring/Lhasa
Day09 Depart Tibet for next destination
More Tibet trekking programs listed below
1. Shalu-Nartang trek
2. Mt Kailash Trek
3. Khata Valley Trek
4. Lake Manasarovar Kora
5. Nyenchen Thangla Traverse (Nakya to Tashi Do Island (Namtso Lake)
6. Shishapangma Base Camp Trekking+ Everest Base Camp
TCTS, the international department and the online brand of Tibet Niwei international Travel Service Co., Ltd is a Lhasa-based tour agent and operator with more than 14 years of experience leading Tibet trekking tours. The Tibet tour agent uses part of its proceeds to provide education to disadvantaged children. The manager Tony and his Tibetan team would love to promote Tibetan culture and help Tibetans improve their livelihood, all of their guides are local Tibetan, and all their drivers are with many years' safe driving experiences.