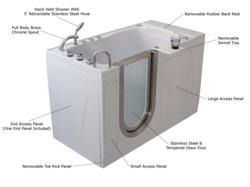 We hope that by adding American Express and Discover as an acceptable form of payment, it gives shoppers more flexibility when purchasing a walk bathtubs or ADA shower product.
Los Angeles, CA (PRWEB) January 17, 2013
Aging Safely, a national supplier of walk bathtubs, officially announces that its shopping cart website will be expanding its payment options by accepting Discover card and American Express. Aging Safely also accepts Visa and Mastercard, but now customers have more credit card choices when they purchase an ADA shower, safety grab bar or elderly bathtub that allows them to age in place.
When a senior citizen or mobility restricted individual needs an ADA shower, hydrotherapy spa or elderly bathtub, they do not want to request a new credit card to cover their purchase. Offering customers a choice of credit cards makes charging a walk in tub convenient because customers do not have to worry about new card approval. The shopping cart website's expanded payment options make charging easier for many customers who need an ADA shower or step in tub because they may already have an American Express or Discover card.
The increased payment options also make it possible for customers to enjoy points programs that are aligned with American Express and Discover. Using Discover to purchase ADA compliant showers or walk bathtubs can also help customers benefit from cash back incentive programs. For many customers, these unique elderly bathtubs and hydrotherapy are an integral part to successfully aging in place; so earning reward points is an additional benefit beyond peace of mind.
By accepting additional credit cards, customers have the ability to choose from multiple cards to charge a handicap accessible shower or walk bathtubs product. Sometimes customers may not have a high enough limit to pay for a step in tub or hydrotherapy spa that allows them to age in place easily. Nevertheless, they need a bathroom that promotes fall prevention. If needed shoppers may be able to purchase an ADA shower stall or elderly bathtub by dividing the payment on multiple cards.
This specialized shopping cart website is meeting the needs of customers, so they can more easily afford an ADA shower, safety grab bar, senior hydrotherapy tub or soaking tub that provides the ability to age in place with dignity. The added credit card options help make aging at home more affordable and convenient when purchasing a walk bathtubs product. Visitors are invited to contact customer support with any questions regarding this bathroom aging in place technology.
Contact Information:
Tye Wennstedt
info(at)walkbathtubs(dot)com
720-495-5497