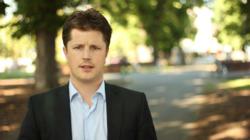 one of the laws of influence is that people buy from people they like, and so by getting the opportunity to show people that I might well be the kind of person they like, they have a better opportunity to go forward
Melbourne, Au (PRWEB) January 21, 2013
The Multimedia Marketing Show with Jake Hower recently released a podcast interview of Chris Brogan on how he built an audience through blogging.
The interview started with Brogan giving a brief summary of his background.
"In 1998, I started blogging. In 2005 or so I started a podcast, and in '06 I ran an event called PodCamp with Christopher S. Penn. From the PodCamp event, I really started to realize that there's just so much more business opportunity. I left my background in telecomm and started running some events in the space of media making. Video on the net was the first one I did with Jeff Pulver. Since then, I started and sold a consultancy. And now my company, Human Business Works, does courses around helping people do the work they want to do, only better, mostly in the digital space," said Mr. Brogan.
Brogan's personal blog now ranks among the top five marketing blogs, according to Ad Age magazine.
He explained how this has helped him in business.
"When I have something to sell, the person will choose to buy it because one of the laws of influence is that people buy from people they like, and so by getting the opportunity to show people that I might well be the kind of person they like, they have a better opportunity to go forward," said Mr. Brogan.
"My belief isn't that we need a whole ton of personal brands out there in the world. What the opportunities are, basically, are that people want to do business with people. So how do we teach companies of any size, or how do we teach professionals inside companies to do something really important? To me, that's the big opportunity: you can teach people how to build concierge class service, a very bespoke service," explained Mr. Brogan.
Business owners who want to learn more tips about engaging their audience can listen to the full interview at The Multi Media Marketing Show website.
About The Multimedia Marketing Show with Jake Hower
Too many people focus on short-term "push button riches" sales strategies. The Multimedia Marketing Show's focus is on long-term sustainable solutions that build out the authority in a particular market.
Business owners who implement the strategies taught in The Multimedia Marketing Show's podcasts and videos will increase authority and build a defensible business that competitors cannot easily replicate.
Tap into the video marketing expertise at The Multimedia Marketing Show with Jake Hower.
About Jake Hower
Jake is a co-director of Pan Australian Travel. He joined his current business partner as a director in 2009. He has extensive travel industry experience, having worked in various senior positions before joining the company. Jake's role within the company has him overseeing marketing, client management and new client acquisition, with a focus on driving innovation through the entire group. Jake is a member of Entrepreneurs Organisation (EO) and is actively involved in various travel industry associations.