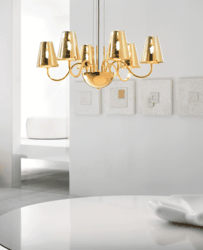 Tarpon Springs, FL (PRWEB) January 18, 2013
Interior Deluxe has been a popular name in the modern lighting industry. From contemporary lighting fixtures to palatial European lights, this company has handled everything. This urbane establishment is now embarking on its latest brand – Movelight lighting from Italy. It has launched its new state of the art collection that features Fly Light Suspension, Pandora Suspensions, and Opera Chandeliers. This cutting-edge assemblage is both elegant and energy-efficient. It is fit for both sophisticated home owners and classy office looks.
Following the mantra of strong looks, employment of new materials, high quality, and collaboration with innovative designers has helped Movelight make a big mark in the international market in a short span of time. It has also managed to put up an impressive show at all major trade fairs including the ones in Paris, Milan, and Frankfurt. Its two collections by renowned designer Mauro Bertoldini at the Frankfurt show in 2004 created a buzz about the company, giving tough competition to other celebrated brands of the industry. Once again, Movelight has got its hands on another tremendous collection of Fly Light suspensions, Pandora fittings, and Opera chandeliers. These lighting features blend in perfectly with all kinds of classy ambience and environments. Whether it is home space or office area, Movelight collection is ideal in either case.
The Fly Light Suspension Lamps by Movelight come in both large and small sizes. Designed by Luca Centofante, the lamps are very graceful in appearance and refined in construction. They have been launched in all three major colors- red, black, and white. Made of high quality steel, they offer long-term reliability, sturdiness, and adequate lighting. The installed 25 Watt bulb provides plenty of light, which is adequate for reading as well as décor purposes.
Movelight's Pandora Suspensions have been introduced into a wide range of suspension lamps and ceiling lamps. Some of these also cover LED suspension Lamps. Crafted by the veteran designer Mauro Bertoldini, Pandora suspensions are perfectly round in structure with a fine lacquered finish. These charming lamps provide light with neon effecture circline, hence giving a tough competition to many other powerful lamps in the industry.
The Opera Chandeliers have again been designed by Mauro Bertoldini. With golden and silver features, these suave modern chandeliers create reflections of the moon. The stylish and sleek Opera lights make the environment lively with their outstanding design. Their regal beauty, form, and style create a vision of royalty in the place where they are installed. Furthermore, these lighting fittings are available in a variety of colors like gold or chrome steel finish. With a diameter of 65 centimeters and a height of 200 centimeters, these lamps are suitable for any workspace and living area.
Rachel from Tampa expressed her joy, "I ordered the Pandora suspension for my office. It completely uplifted my office look. The office started to look more lively and sophisticated. My clients just loved it and admired my elegant choice. It helped my business in a positive way. I am mesmerized by the novelist collection. I've also ordered some fittings for my home now."
Interior Deluxe is known to surprise its clients with new and modern light fixtures ranges. And the new Movelight collection is certainly taking the legacy forward.