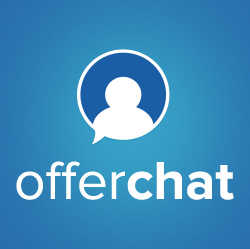 Live chat has increasingly become the first choice of contact for consumers to communicate with a brand or a service
Columbia, SC (PRWEB) January 17, 2013
Apparently, a very positive customer relationship is essential to brand building and rebuilding. Businesses and enterprises that have set goals to improve seared customer relations or enliven a rather flaccid one this year can do so through live chat support.
Live chat support is the use of a live chat application to provide immediate, one-to-one, real time assistance to customers or visitors on a business website. Live chat has increasingly become the first choice of contact for consumers to communicate with a brand or a service rather than the traditional email support and phone support.
Business and enterprise owners have embedded a live chat widget on their site's interface to allow visitors, potential buyers, and existing customers to communicate and interact with their brand.
The Offerchat live chat application is equipped with both a customer-facing live chat widget that business website owners can customize to match their site's appearance and a web-based client chat panel where customer service chat agents and site owners can monitor, accept and reply to customer chats.
The ease of adding a live chat widget to a website by just inserting a line of code largely appealed to entrepreneurs precisely why more and more business websites are adding live chat to their customer support arsenal.
For its case, Offerchat is continuing to foster customer relationship this year by ceaselessly improving the web-based client chat panel and developing user feature requests as shown on their roadmap. To glean more information on how to get a premium live chat application without a recurring monthly fee, log on to http://www.offerchat.com
About
Offerchat is a free premium live chat for websites specifically designed to help online businesses increase their conversions and sales. It's easy to add chat widget with full features that's 100% free. Offerchat is brewed to perfection at Click Labs, Inc. a company based in Cebu City, Philippines. The company specializes in driving search marketing and social media traffic, social web app development and conversion optimization. Each product or service specifically helps small/medium website owners increase online visibility and improve online sales.