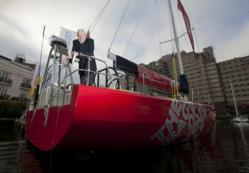 (PRWEB UK) 17 January 2013
Providing team building and talent development, client hospitality, industry regattas, and iconic sailing event charters, Clipper Events offer access to the brand new Clipper 70 which forms the world's newest and largest identically matched fleet of ocean racers.
Designing exhilarating and enjoyable events to meet the bespoke hospitality and business needs of clients as well as competing in iconic British yachting events such as Aberdeen Asset Management Cowes Week and the biannual Clipper Round the World Yacht Race, the introduction of the Clipper 70 marks another step forward in the growing success of the business.
While other events companies are cutting costs, the arrival of the new fleet will allow Clipper Ventures to provide an even better service to their growing customer base. The 12 new 70-foot yachts are complemented by eight 68-foot yachts and together, the Clipper fleet can cater from eight to 240 guests at any one time.
Since its conception in 2005 by legendary yachtsman and Clipper Ventures Chairman, Sir Robin Knox-Johnston, Clipper Events has stood apart from other on-the-water event providers with its fleet of specially designed ocean racers.
The first person to circumnavigate single handed and non-stop around the globe in 1969, Sir Robin has made sailing accessible to all, hosting races and events which require no prior sailing experience.
Clipper Events Commercial Director, Nigel Beacham says: "The convenience of digital communication allows us to deliver our many corporate and personal messages to global audiences very effectively, but there is still no substitute for personal relationships. Sailing big boats requires people to communicate and work together, and provides a natural platform through which to develop relationships."
"Our events are dynamic and carefully designed to meet our clients' specific business needs. Sailing offers a hands-on experience in a way that is not possible in most sports. I'm really excited to see the launch of the world's largest identically matched ocean racing fleet, which not only promises some exhilarating and unforgettable sailing, but will also provide a powerful tool to achieve hospitality, team building and learning and development objectives."
Clipper Events also delivers effective learning and development solutions combining the excitement of experiential learning through sailing with academic and business excellence to ensure lessons learned on the water are applied in the boardroom.
Located in the South Coast of England, most programmes are delivered in the UK, though the global nature of ocean racing yachts provides a great platform for Clipper Events to reach a wider audience and longer programmes are successfully being delivered in partnership with business schools in China, USA and the UK.
NOTES TO EDITORS
For further information please visit http://www.clipperevents.com or contact Commercial Director, Nigel Beacham on +44 (0) 239 252 6000, email events (at) clipper-ventures (dot) com
For media information or interview requests please contact:
Adriana Wright, PR Manager
UK Mobile: +44 (0) 7793 417751
Office: +44 (0)239 252 6000
Email: awright (at) clipper-ventures (dot) com
Amy Martindale, Communications Coordinator
UK mobile: +44 (0) 7824 817270
Office: +44 (0) 2392 526000
Email: amartindale (at) clipper-ventures (dot) com
Images
Images to illustrate this release available on request
About Clipper Ventures Plc
Clipper Ventures Plc was established in 1995 by legendary yachtsman Sir Robin Knox-Johnston, the first person to sail solo non-stop around the world in 1968-69. Sir Robin founded the company on the premise that sailing should be made available to everyone, regardless of age or experience. So he launched the Clipper Round the World Yacht Race in 1996. The company owns and operates its own matched fleet of ocean racing yachts and so far more than 3,000 people have competed in the eight editions of the Clipper Race to date. The company also owns the rights to the professional solo round the world VELUX 5 OCEANS race and runs a successful events division offering corporate sailing and development programmes. Today Clipper Ventures is recognised as a leading international marine events company which is focused on developing and promoting major global events such as the Clipper Race.
Clipper Events
Clipper Events was established in 2005 and is the UK's leading marine events and yacht charter company, renowned for its industry sailing events which helps corporations get close to their customers, entertain clients and build teams. The fleet of 68-foot and brand new Clipper 70 is available for bespoke sailing events and established sailing regattas in the British sailing calendar. Sailing on the Clipper Events fleet guests are able to experience racing on the world's largest matched fleet of ocean racing yachts.
Sir Robin Knox-Johnston
It's nearly 45 years since Sir Robin Knox-Johnston set off on his record breaking solo and non-stop circumnavigation in 1968-69. Now, as Executive Chairman and founding Director of Clipper Ventures Plc, he is at the forefront of promoting round the world yacht racing. Sir Robin has been involved in sailing all his life and holds a Department of Transport Master's Certificate. He set the record for the fastest circumnavigation with Sir Peter Blake. In 2007; he completed his second solo circumnavigation when he competed in the VELUX 5 OCEANS race. Sir Robin has considerable experience of the administration of round the world races having served on the Whitbread Race committee from 1990 to 1994 and having organised the BOC Challenge Round the World Race in 1982 and 1986. He has been named RYA/YJA Yachtsman of the Year an unprecedented three times and participated in the 2010 Sydney-Hobart race at the age of 71.