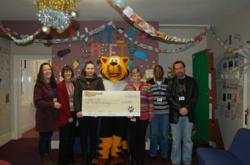 (PRWEB UK) 18 January 2013
The charity is a new beneficiary of the payroll giving scheme that is run by Call Connection, the owner of Tiger.co.uk.
4YP offers young people free advice, support and a wide range of services and facilities that assist them with issues that affect their health and wellbeing. The charity has been experiencing increased demand for its counselling and advice services and the £7,000 donation will provide approximately 200 extra counselling sessions for a minimum of 35 young people in the area.
Joanna Buck, Marketing Manager at Tiger.co.uk, commented: "4YP is a very worthy charity and we are delighted that our staff have decided to support the important work it does. It is wonderful to be able to get involved and give staff the opportunity to learn more about the great work that 4YP does."
Cherry Finch, Operational Manager at 4YP, said: "We are really grateful to all the staff at Tiger.co.uk for their fundraising efforts. The money they've donated will assist us in tackling the ever growing demand for our counselling service."
Media contact for 4YP: cherry.finch (at) syphp (dot) org (dot) uk
About Tiger.co.uk:
Tiger.co.uk is a trading name of Call Connection Ltd. Tiger.co.uk is a UK based, independent price comparison site, offering bike, van and car insurance quotes from over 150 motor insurance brands from its website: http://www.tiger.co.uk. Call Connection Ltd is authorised and regulated by the Financial Services Authority (number 308374).