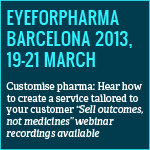 Nowhere else in the world will you be amongst so many senior leaders in the pharma space
London (PRWEB UK) 18 January 2013
On the 19-21st March, eyeforpharma Barcelona 2013 will offer the opportunity to meet 1000+ key decision makers who are driving forward pharma's future commercial strategy.
Not only are numbers already higher than last year, the seniority of the audience confirms that the customer is becoming an increasingly crucial part of the commercial strategy. Nowhere else in the world will attendees be amongst so many senior leaders in the pharma space, as well as partaking in panels with doctors, patients and payors.
Eyeforpharma are thrilled by this senior level of attendance; this has not been seen in such great numbers at any eyeforpharma event before. See a sample of who is attending this must-attend event: http://bit.ly/XgyMk9
There are groups attending from:

Novartis
Astellas
Pfizer
Bayer
Sanofi
Roche
Astra Zeneca and more..
eyeforpharma Barcelona 2013 is in its 11th year and remains the biggest pharma commercial event in the world. The three days are filled with over 80 exclusive pharma presentations and case studies, 10 interactive workshops to choose from and 35 hours of networking opportunities available. Don't miss out on this must attend event!
For the complete eyeforpharma Barcelona 2013 conference programme and speaker line-up, access the e-brochure at http://bit.ly/11BiYiK or contact the eyeforpharma Barcelona team at thushani(at)eyeforpharma(dot)com.
Register today to join 1000+ senior delegates. Book before January 25th and save €300: http://bit.ly/WhiQPl.