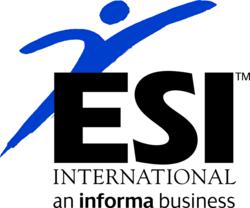 2013 may mark the year when the role of the BA gets called up into the big leagues.
London (PRWEB UK) 30 January 2013
ESI International, the world's leading project management training company, today announced the release of its top 10 trends in business analysis for 2013. This year's trends highlight the importance of business analysts, as they are asked to take on broader roles within projects.
"Business architecture projects and the broader acceptance of Agile methods are forcing business analysts to take on broader project responsibilities," said Nancy Y. Nee, Vice President, Global Project Strategy, ESI International. "With that in mind, we think that 2013 may mark the year when the role of the BA gets called up into the big leagues."
ESI's top 10 trends for business analysis include:
1. The roles of the business analyst and product owner will be solidified and respected
2. Strong user stories will be the force driving effective requirements analysis and product backlog prioritisation
3. Forget consensus, in 2013 it's all about collaboration and convergence
4. BAs will become the new PMs through Agile
5. BAs will be seen as the keystone to adopting Agile
6. The U.S. federal government will slowly recognise the value of business analysis as it moves more toward an Agile environment
7. Strategic enterprise analysis will become the foundation of business architecture
8. BA Centers of Excellence will focus on proving their worth and driving innovation
9. Modeling skills take precedence in business analysis training
10. Communicating "up" will become critical to articulating requirements' impact on a deliverable
"In 2013, business analysts will sharpen their business acumen and become responsible for communicating messages up and across an organisation," said Nee. "They will not only be responsible for the classic "hard" skills, but also, as Agile is more widely adopted, they will need new, soft skills to partner more effectively with product owners, stakeholders and other members of the Agile team."
ESI's top 10 trends in business analysis is put together annually by ESI senior executives and subject matter experts.
In conjunction with the release of the trends, ESI has released a top 10 trends in business analysis video. The video offers a discussion of the trends, including original insight and information about the trends and their impact on projects.
# # #
About ESI International
ESI, a subsidiary of Informa plc (LSE:INF), is a global project-focused training company, helping people around the world improve the way they manage projects, contracts, requirements and vendors through innovative training in project management, business analysis and contract management. In addition to ESI's more than 100 courses delivered in more than a dozen languages at hundreds of locations worldwide, ESI offers several certificate programmes through our educational partner, The George Washington University in Washington, D.C. Founded in 1981, ESI's worldwide headquarters are in Arlington, Va., USA. To date, ESI's programmes have benefited more than 1.35 million professionals worldwide. For more information visit http://www.esi-intl.co.uk