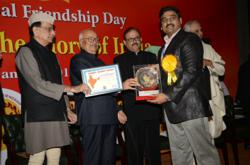 New Delhi, India (PRWEB) January 18, 2013
India International Friendship Society (IIFS), New Delhi has announced the globally reputed "Bharat Gaurav Awards" for the year 2013. Mr. Anil Choudary Nagalla, a successful Entrepreneur, Philanthropist and IT Executive from Dallas, Texas is one of the recipients of this prestigious award for his community and professional achievements. Mr. Nagalla has been honored with Bharat Gaurav Award along with a Certificate of Excellence at a high profile Global Friendship Day gala banquet held on January 12th, 2013 at Le Meridian in New Delhi. Mr. Nagalla was born and brought up in Bapatla in the state of Andhra Pradesh. He obtained his Bachelors in Computer Science and Engineering and further pursued his Master's in Business Administration from the University of Houston after relocating to the United States. He has been working in the United States for the past 15 years in various leadership and executive roles in the fortune 500 companies. Mr. Nagalla currently serves as a Senior Director at McAfee, subsidiary of Intel. He is responsible for the Architecture and Delivery of Enterprise Business Applications leading McAfee India IT Operations. He also volunteers and spearheads various community programs and philanthropic work in the United States and India.
Former CBI Director Sardar Joginder Singh is serving as the Chairman of the India International Friendship Society (IIFS), while Chief Minister of Himachal Pradesh Prem Kumar Dhumal, former Governor Madanlal Khurana, former Election Commissioner GVG Krishnamurthy and Justice Hanumanthappa serving as the Board of Directors of the same.
The conference has been attended by the elite corporate leaders, Economists, Entrepreneurs, several high profile professionals and NRI delegates across the Globe. The event projected the achievements of the Indian Diaspora which has made Mother India proud.
Hon. Balmiki Prasad Singh, Governor of Sikkim attended as a Guest of Honor, Hon. Tariq Anwar, Minister of state for Agriculture and Food processing, Dr. Bhishma Narain Singh, former Governor of the states of Assam and Tamilnadu, Sardar Joginder Singh, former CBI Director attended as Special Guests. Mr. Nagalla has been recognized for his excellence in philanthropic work with equally commendable professional accomplishments.
Some of the past recipients of this honor include - Late Mother Teresa, Noble Laureate, Late B.D. Jatti, Former Vice President of India, Dr. Bishma Narain Singh, former Governor, Digmabr Kamat, CM of Goa, Cricketer Sunil Gavaskar, Veteran Actors Shammi Kapoor, Rajesh Khanna, Dev Anand, Abhinav Bindra etc.
India international Friendship Society (IIFS) is a fifteen-year old non-profit organization established with an aim to forge greater unity and integrity among the people of the Indian origin living all over the globe. The society also aims to enhance India's stronger relationship and forge a greater friendship and cooperation with all countries irrespective of their size or status. IIFS desires that all human beings should live together in peace, love and harmony. For more information http://www.globalfriendshipday.org