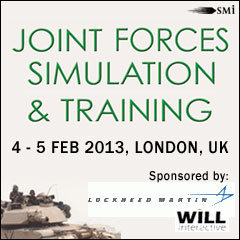 London, UK (PRWEB UK) 17 January 2013
SMi's 4th annual Joint Forces Simulation & Training will discuss simulation training systems used globally by the armed forces and will aim to cover the prevalent requirements and capabilities driving the marketplace.
The two day conference will feature a line-up of key military figures, leading academics and pioneering scientists addressing topics including: allied cooperation, immersive environments and human simulation, physical combat training and distributed simulation. Click here to register today.
New developments for the 2013 event include more detailed focus on the implementation of simulation training for the armed forces; an improved breadth of case studies shared by the personal experiences of leading military figures and a greater focus on physical combat training due to its importance in all sectors of the armed forces
For more information please visit http://www.smi-online.co.uk/jointforces-simulationtraining16.asp
Featured Military Speakers include:

Brigadier General Grzegorz Buszka, Deputy Commander JFTC, NATO
Dr. Jim Blake, Program Executive Officer PEO STRI, US Army
Colonel Simon Diggins, Deputy Assistant Chief of Staff for Mission Support and Training Joint Warfare, UK MoD
Thomas Lasch, Chief Models and Simulations Branch, US Army Europe
Amarily Segui, ATEC LNO, US Army
Paul Thurkettle, Modelling and Simulation Analyst ATC, NATO
In addition, there will be a post-conference workshop held on the 6th February focusing on: Virtual Training Simulations & Game-Based Systems: Large-Scale Adoption Issues. In associtaion with Lockheed Martin
There are less than 3 weeks left to register. You can secure your place amongst key players from within the simulation nd training field by visiting http://www.smi-online.co.uk/jointforces-simulationtraining16.asp
For the full conference programme and further information please visit: http://www.smi-online.co.uk/jointforces-simulationtraining16.asp
Alternatively contact James Hitchen: +44(0) 20 7827 6054 / Email jhitchen(at)smi-online(dot)co(dot)uk
Sponsorship opportunities are available for this event, please contact Simon Wright on +44(0) 20 7827 6732.
About SMi Group
Established since 1993, the SMi Group is a global event-production company that specializes in Business-to-Business Conferences, Workshops, Masterclasses and online Communities. We create and deliver events in the Defence, Security, Energy, Utilities, Finance and Pharmaceutical industries.
We pride ourselves on having access to the world's most forward thinking opinion leaders and visionaries, allowing us to bring our communities together to Learn, Engage, Share and Network. We hold events in over 30 major cities throughout the world including London, Paris and Singapore and to date have welcomed over 200,000 participants from 80 countries.
For more information, please visit http://www.smi-online.co.uk