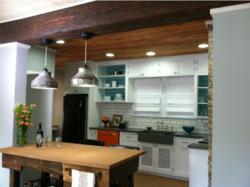 Our fake wood beams provide consistent results and fast installation design shows need
Deer Park, NY (PRWEB) January 22, 2013
Yet again, FauxWoodBeams.com was chosen to participate in a makeover project for a TV design show. "I Hate My Kitchen" from DIY Network, a Scripps Howard Broadcasting station, selected unfinished faux timber beams from FauxWoodBeams.com for its new episode debuting Tuesday, January 22, 2013.
"Design shows love us because our faux beams are so much easier and faster to install, which is essential for the programs with a timed makeover. Even better, the home owner gets the long-lasting beauty of our authentically textured beams without the intensive maintenance real wood can require. It's a win/win all around," said Steve Barron, president of FauxWoodBeams.com.
For this episode, "I Hate My Kitchen" was helping Chris and Kristin renovate a foreclosure they purchased. The couple had spent several months renovating the interior of the 20th century home, but the out of date and bland kitchen intimidated them. Luckily, licensed contractor and host of "I Hate My Kitchen" James Young came to the rescue.
Young and his team came up with a design that gave the kitchen a much more attractive and practical layout, making future cooking much more pleasant. Young also sought to blend classic farmhouse styling with modern accents, creating a design that would work for many years.
That's where FauxWoodBeams.com's timber beam fit in perfectly. Made from molds of genuine wood beams, it has a realistic texture that, combined with other items like a rustic peninsula table, created the rugged yet beautiful design of a cozy, lived-in kitchen for the new homeowners.
"I Hate My Kitchen" chose an unfinished beam so they could create exactly the shade they wished. FauxWoodBeams.com's unfinished beams take stain and faux painting beautifully but homeowners can also choose an already stained walnut shade for greater convenience.
Regardless of the finish option selected, these timber faux wood beams have the authentic texture that only comes from rough hewing a real wood beam and then creating a mold from it so the faux beam has all the same knots, grooves and grain pattern the original did. But unlike cost-prohibitive real wood beams, these beams will never rot, warp or attract termites. For low-maintenance beauty, they're the perfect choice.
Timber faux beams are available with three sides, which is very convenient for running lighting or speaker wires through the beam, or four sides. End caps expand design options even further and they're available in a wide variety of dimensions so you can get a nearly custom size.
"We love working with TV shows, especially for home makeovers. As a family-owned and run business, nothing makes us happier than helping another family create their dream home. The folks at 'I Hate My Kitchen' were terrific, too. Providing a faux beam for their design was an all-around wonderful experience," said Barron.
The "Industrial Farmhouse" episode of "I Hate My Kitchen" will debut at 10 p.m. Eastern time on Tuesday, January 22nd with repeat airings at 1 a.m. on January 23rd, 10:30 p.m. on January 29th, 1:30 a.m. on January 30th, and 8:30 a.m. on February 17th on the DIY Network.
FauxWoodBeams.com leads the field of polyurethane wood beam products, ceiling panels and architectural items. Its products have been regularly featured on television shows such as "Brothers on Call," "Celebrity Apprentice," and numerous appearances on "Extreme Makeover: Home Edition." FauxWoodBeams.com is a subsidiary of Barron Designs, Inc., a family-owned home improvement business operating since 1972. For more information, visit FauxWoodBeams.com
# # #