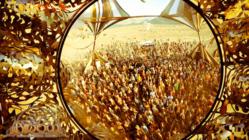 Featuring music by Beats Antique, Tipper, Random Rab, Phutureprimative, Kaminanda, and more.
Portland, OR (PRWEB) January 18, 2013
Promising to be the first to tell the story of a cultural phenomenon having profound influence on hundreds of thousands of lives, a new documentary webseries, The Bloom: A Journey Through Transformational Festivals, officially launched with the on-line release of its Series Preview.
The preview by series co-producers Jeet-Kei Leung and Akira Chan features footage from outdoor events filmed all over the world during the summer of 2012, deemed "Transformational Festivals" by the series creators for their focus on supporting personal and social transformation. During its initial week, the 9 & 1/2 minute preview received over 18,000 views & 9,100 combined Facebook 'likes', originating from the sharing of a single Facebook post.
"The new festival is going beyond commercial entertainment," says director and host Leung, whose TEDx talk on Transformational Festivals went viral, garnering acclaim for its lucid articulation of the subject. "They've grown beyond being simply parties to places where we're actually practicing and experiencing the world we wish to live in."
Citing the influence of the week-long Burning Man annual event in Nevada reaching the mainstream, Leung explains, "More and more festivals are going beyond their core of music and dancing to becoming increasingly immersive, participant-driven environments that integrate an extensive amount of art, workshops, and an emergent spirituality, all with the intention to support personal growth, holistic lifestyles and social transformation."
The Series recently released its global map on its website (http://www.thebloomseries.com) listing 90 such festivals on 5 continents with names such as Beloved, Earthdance, Symbiosis, Sonic Bloom and many others. "The result is that participants very often are having deeply meaningful experiences, which are altering their lives to be in greater alignment with their true purpose and passion," says Leung.
"The thesis of our series is that this new flourishing of the conscious co-created festival is actually a nascent renaissance," continues Leung. "It's a true story of genuine hope for our times, showing us ways we can make the change we need in our lives and the world, invigorated by creativity, connectivity and joy."
The series is being produced in partnership with globally-reknowned independent film studio, Elevate Films. "What's amazing about this story is that it's not something that has come and gone," says Mikki Willis, CEO of Elevate Films and creative advisor for the project, "but it's about an emerging culture which is very much mid-stream and burgeoning into its full bloom."
The series, with its first episode slated for release on March 21st, utilizes an innovative distribution strategy, coupling on-line social media with an international network of localized screening events, a strategy championed by Julian Reyes of Keyframe-Entertainment (Executive Producer of "Electronic Awakening") and an associate producer of the series. "These community-based screenings are a way to gather people together, to promote dialogue and engagement, and, as entire events are being built around the screenings, to maximize the energy around each of the episodes," says Reyes.
Alongside every episode, The Bloom will be releasing its soundtrack, produced by some of the most celebrated artists in electronic music, including Beats Antique, Tipper, Random Rab and others, through globally-recognized electronic music label, Muti Music.
"The Bloom weaves a true story of genuine hope and inspiration for our times--a new blooming of human consciousness awakening through creativity, love and joy, and an emerging culture that is pointing the way to a bright and promising future."
Contact:
Jeet-Kei Leung / Director, Producer, Writer & Host
jeet-kei(at)thebloomseries(dot)com
Zac Cirivello / Promotions & Outreach Director
616-808-6469
zac(at)thebloomseries(dot)com
Julian Reyes / Associate Producer & Screenings
Keyframe-Entertainment
http://keyframe-entertainment.com