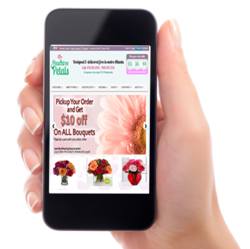 Atlanta, GA (PRWEB) January 18, 2013
Peachtree Petals, a recognized leading Atlanta florist specializing in premium floral arrangements and wedding floral decor services, announces the Peachtree Petal Mobile Application. The florist has created the app in an effort to meet mobile commerce shopping demand, expand their customer base and increase sales growth. Peachtree Petals pursues to be the leader in high-quality and custom-designed floral arrangements nationwide.
The mobile application will automatically appear when visiting the Peachtree Petals website from any mobile device. Customers can enjoy the same friendly, web experience as their original Peachtree Petals website. Clients can view all of their premium bouquets with descriptions and more. The mobile app includes banner advertisements, featured products, menu bar for additional site browsing, search functionality, and contact us bar. Placing an order is easy to use and fast with their mobile app. Customers can simply select what they desire to order, add to their cart, and begin their checkout. The app offers the option to view the website in desktop preference as well.
With the Peachtree Petals mobile app, floral clients can shop and order their stunning floral arrangements on the go. Customer use of the iPad, smartphones, tablets, and other mobile devices for shopping is progressively growing. Peachtree Petals will continue to keep pace with convenience and modern business trends in order to provide the highest level of customer satisfaction.
Peachtree Petals is a well-known leading provider of premium floral and decor services nationwide. From Valentine's Day flowers to wedding bouquets, Peachtree Petals is able to meet all of your floral needs. Their floral designers have over 50 years of experience and enjoy their craft. Based in Atlanta, Georgia, Peachtree Petals services a growing list of clients, including company floral subscriptions and weekly floral services. The company offers a simple approach to the floral industry, most notably, free same-day delivery of all their floral arrangements in the Atlanta and Metro-Atlanta area.