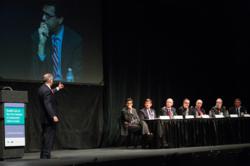 Albany, NY (PRWEB) January 17, 2013
Nearly 1,000 people – from students to executives – packed The Egg in Albany Wednesday night as Dr. Atul Gawande and a panel of local leaders started the conversation on meaningful health care reform during a free public forum, Health Care in the 21st Century: A Community Call to Action.
Gawande, a renowned surgeon, author and Harvard professor, captured the capacity crowd with his anecdotal style. His keynote speech, which was sponsored by The University at Albany School of Public Health and The University at Albany Foundation, focused on the complexities of quality health care and the need for community-backed reform.
The forum, presented by CDPHP®, also featured a frank discussion by some of the region's highly regarded members of the health care, business and academic communities on what is currently being done to improve the quality of care in the region. In addition, New York State Health Commissioner Dr. Nirav R. Shah and University at Albany President Dr. Robert J. Jones addressed the audience.
"We are extremely pleased that so many people – representing a multitude of backgrounds – have come together for this important discussion on health care quality and reform," said John D. Bennett, MD, president and CEO, CDPHP. "Now that the foundation has been laid, words must become action. Moving forward, we will work together to bring about real change."
Philip C. Nasca, PhD, dean, University at Albany School of Public Health agreed. "We expect tonight's program to be the beginning of a region-wide conversation about how to maintain the public's health through effective partnerships among health professionals involved in disease prevention programs and health professionals involved in clinical practice," Nasca said.
Shah stressed the importance of teamwork. "When we talk about ways of improving the quality of health care and achieving optimal results, public-private partnerships are crucial," Shah said. "Health care providers, the business and academic community, policy makers, government representatives and consumers must all play a part in efforts to assure the delivery of safe, high-quality care."
Following Gawande's talk, a discussion moderated by Bennett tackled the questions of where the region currently stands in terms of quality care and how we can advance to the next level.
The panel featured James J. Barba, president & CEO, Albany Medical Center; Michael J. Castellana, CPA, president & CEO, SEFCU; James W. Connolly, president & CEO, Ellis Medicine; Edward L. Hannan, PhD, distinguished professor and associate dean emeritus of the School of Public Health; Dr. James K. Reed, president & CEO, St. Peter's Health Partners; and Dr. Louis Snitkoff, medical director, CapitalCare Medical Group.
Each panelist offered insightful commentary and expressed a desire not only to continue the conversation, but to take action to achieve tangible results.
"The Capital Region is blessed with outstanding hospital systems and insurers, an innovative commissioner and State Department of Health devoted to quality improvement, numerous other state agencies and organizations with a mission to improve health delivery, and a School of Public Health that works closely with the Department of Health to solve important health policy issues," Hannan said. "This combination of resources and talents should enable our region to serve as a model for launching a collective regional initiative to improve quality, access and affordability of health care."
As the voice of the business community, Castellana brought a unique perspective to the table. "Health care is a topic that affects everyone and is center stage in 2013," Castellana said. "Reflecting the importance of our workforce, ensuring access to quality, affordable health care is critically important. The gathering of Dr. Atul Gawande and thought leaders of the Capital Region to consider a paradigm shift in care is both exciting and time sensitive given the challenges of the current health care system."
Those sentiments were echoed by the regional health care leaders.
"Health care in the Capital Region has entered a period of significant change. All of our health care organizations must work together – and more closely than ever before – as good stewards of our limited resources in order to meet the needs of the communities we serve," Snitkoff said.
"Ellis Medicine, having been at the forefront of local health care reform, is pleased to contribute to this important discussion with our respected colleagues. We believe the future of quality health care lies in our ability to continue building innovative relationships among community organizations that will allow people to maximize their health and wellness close to home," Connolly said.
"Albany Medical Center plays an essential role in providing access to expert medical care 24/7, and we are committed to ensuring that it is of the highest quality," Barba said. "It was gratifying to join with my colleagues in health care, business and academia to launch this continuing discussion about what each of us is doing and what we might do collectively to improve health care access, quality and cost."
"Health care reform must be much more than a series of legislative packages developed in Washington. It is essential that real change in our health care system begins at the local level, and that the greatest ideas and the best practice models then spread nationally," Reed said. "This can only begin if we have real dialogue about how we collectively can help reduce the fragmentation of health care – recognized as the single, most significant barrier to quality and efficiency in our current system."
Jones spoke to the university's role in the process. "Improvements in health care require a community working together, and UAlbany is committed to partnering in this endeavor," Jones said. "On behalf of our University and our School of Public Health, we are proud to partner with CDPHP in bringing Atul Gawande's vision to our region to serve as a model for attaining quality outcomes."
The event was live tweeted at #ATULALB13.
About CDPHP®
Established in 1984, CDPHP is a physician-founded, member-focused and community-based not-for-profit health plan that offers high-quality affordable health insurance plans to members in 24 counties throughout New York. CDPHP is also on Facebook, Twitter, and LinkedIn.
About The University at Albany School of Public Health
The School of Public Health is accredited by the Council on Education for Public Health and offers a research-oriented opportunity for faculty, and a valuable professional experience for students. The school is a partnership between the NYS Department of Health and the University at Albany. The school is also affiliated with Albany Medical Center and Bassett Healthcare.
About The University at Albany Foundation
The University at Albany Foundation is a not-for-profit corporation organized for the purpose of encouraging philanthropic contributions from individuals, corporations, foundations, and other organizations in support of activities and programs of the University at Albany.