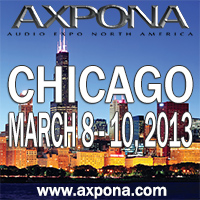 "We are very pleased that AXPONA is being received with such enthusiasm as a new Electronics Show for Chicago. With two months until Showtime being Sold Out of Exhibit Space is a first for our event", says Stephen Davis, Show Organizer
Ormond Beach, FL (PRWEB) January 18, 2013
A Major Electronics Show For Chicago
AXPONA is proud to present it's next show in the great city of Chicago. With successful shows already presented in New York City, Atlanta and Jacksonville, AXPONA is now prepared to bring the excitement and thrills of a major music and equipment show, with all it has to offer, to the Midwest.
Many Chicago businesses and residence will recall the great shows presented beginning with the Chicago Music Show. Eventually CES was born spanning several decades as the premier event in the world of Consumer Electronics. With the absence of such an event in the Midwest great demand has built over the past twenty years. With this demand comes the opportunity to develop a yearly event not only open to trade but also to the public.
With the new business models of 21 Century a new and modernized event was bound to emerge. AXPONA has been designed to fit the niche that Social Media, Smart Personal Devices and Modern Communications require. The equipment on display will not only include modern high quality playback systems but also computer audio and high definition 3D video in combination with these systems. The latest software including storage devices such as Blueray Disc, Music Servers and Downloadable Packages will also be featured.
About AXPONA
Audio Expo North America was founded by a group of highly skilled professionals who have been active in Consumer Electronics for over four decades. Along with retail, wholesale and distribution experience; Electrical Engineering, Financial and Economics Degrees are held by our personal rounding out the team. Record producers, including Mark Waldrep Ph.D of AIX Records, along with other highly skilled Designers also act as consultants on a routine basis in designing and implementing AXPONA shows. Major publications such as Stereophile and The Absolute Sound are sponsors and do live coverage at the events. The editors and writers of these and other fine publications are integral to the panels and seminars that also contribute to the high quality of AXPONA Shows.
AXPONA goal is to present annual shows in Chicago over the next decade growing with the new environment that is today's technological landscape. We can think of no better location that the city that spawned the industry in the beginning to take it to the future.