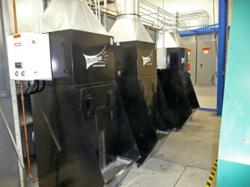 Dry type dust collectors shall not be used in the collection of titanium, magnesium, niobium and zirconium. (NFPA 484, 2009 Edition - Standard on Combustible Metals)
Somers, CT (PRWEB) January 21, 2013
Wet collectors are the standard for collecting combustible metal dust. Wet collectors have become a safe alternative to dry dust collection, since the establishment of the National Dust Emphasis Program.
Machining, manufacturers, and aerospace and defense contractors see the value in protecting their employees from fires and explosions generated from combustible dust.
In the aerospace and defense industry, where parts cost thousands of dollars to produce, investing in a wet collector will protect a companies equity.
Aquest Corporation has installed more than 50 wet collectors throughout New England. A single wet collector can range in CFM from 1,200 to 5,000. Aquest only offers OSHA compliant wet collectors.
Each wet collector has certain features that make it OSHA compliant, including: stainless steel construction, a NEMA 4 control panel, a TEFC wash-down motor, an active and passive vented sump, an auto fill valve, a NFPA compliant automatic low-level shut-off and motor-run interlock capability.
The OSHA National Dust Emphasis Program and NFPA 484 specifically outline standards for the removal of combustible dust. These standards can be found in an easy to read PDF document at http://www.aquestcorp.com.
One of the best features of this system is that it is easy to move around (comes with casters) and fits into most manufacturers' lean, kaizen, and six sigma production methods.
The internal water baffle system of each unit is designed to separate large metal dust while an aluminum mesh pad filter collects fine metal dust and mist before air is exhausted out of the top of the unit.
Each unit is equipped with a tool used to remove dust collected in the sump of the wet collector. The aluminum mesh filter can be washed and placed back in the unit for use. These systems require very little operation and maintenance.
Aquest Corporation will continue to provide solutions for customers looking to meet regulations regarding combustible dust and other industrial air filtration needs.