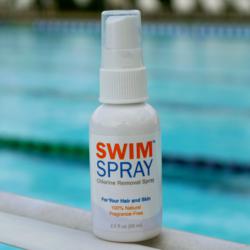 You smell like chlorine because you are covered in chlorine.
Arlington, VA (PRWEB) January 18, 2013
Swimmers smell like chlorine. Each day about 1000 Twitter users discuss their chlorine problems. These problems are often referred to as chlorine burn, chlorine itch, chlorine rash, or chlorine allergy. But, according to Dr. Andrew Chadeayne, all of these problems arise from swimmers general failure to effectively wash the chlorine away after exiting the pool.
According to Dr. Chadeayne, "Chlorine chemically bonds to the proteins in a person's hair and skin. It does not simply wash away in the shower, so it eats away their hair and skin long after they leave the pool." Swimmers universally admit that they smell like chlorine despite showering. Dr. Chadeayne reasons, "You smell like chlorine because you are still covered in chlorine."
Recently Dr. Chadeayne has solved this problem by inventing a method of removing chlorine from hair and skin with vitamin C. Now he is running a company called SwimSpray, which sells the product. Andrew is a resident of Arlington Virginia, lifetime swimmer, doctor of chemistry, inventor, and patent lawyer.
According to Dr. Chadeayne, "I think that the best thing about SwimSpray is that it works." He believes that many swimmers are skeptical of a new anti-chlorine product because "so many 'swimmers shampoos' have claimed to get rid of chlorine but failed to deliver." In order to prove SwimSpray's efficacy, he has posted some videos showing that SwimSpray works. The company has also distributed about 10,000 samples to swimmers across the United States.
More information about SwimSpray is available on their webpage, including testimonials, News, and links to where you can buy SwimSpray.