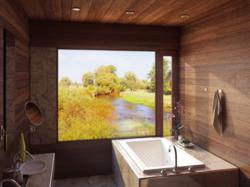 Aquatic continually develops new products and enhances existing designs to provide customers with outstanding bathware. DuraCore and DriftBath are the latest examples of that and also are important advancements for our industry.
Anaheim, Calif. (PRWEB) January 17, 2013
Aquatic – the world leader in innovative and inspirational bathware – today announced that the company will debut DuraCore(TM), the next generation of fiberglass-reinforced polymer (FRP) showers and tub-showers, at this year's International Builders' Show (IBS) at the Las Vegas Convention Center, January 22-24.
Aquatic also will preview its ultra soothing DriftBath hydrotherapy system for select Serenity tubs. IBS attendees can see both new products, along with the company's award-winning Delicair utility basin, in the Aurora house, which will be part of Professional Builder's annual Show Village exhibit outside the convention hall.
"At Aquatic, we're committed to always providing customers with outstanding bathware by all measures so we're continually developing new products and enhancing our existing designs," said Stacy Zar, Director of Marketing and New Product Development. "DuraCore and DriftBath are the latest examples of that commitment and also are important advancements for our industry."
Aquatic's FRP products, which have been longstanding market leaders, now are reengineered to be significantly stronger, glossier, brighter and whiter than before. Aptly named DuraCore, these fixtures are more resilient and durable, able to fully withstand all the rigors of shipping, handling, installation and daily use for years to come. They outperform competitive offerings, based on tests conducted by the International Association of Plumbing and Mechanical Officials.
DuraCore derives its exceptional strength and aesthetic appeal from four structural layers: a surface layer of premium-grade, ultra-white gelcoat (which tested the whitest and glossiest among competitors); a layer of resin that bonds thousands of small strands of fiberglass; a smooth-faced, corrugated reinforcement layer wrapped around all shower walls to create a uniform, high strength bond at all contact points and superior core rigidity; and finally, another coat of the fiberglass/resin mixture to fully encapsulate the core reinforcement between two layers of lamination.
A new approach to hydrotherapy, DriftBath is the next incarnation of gentle and soothing bathing experiences. It currently is offered on select models in the Serenity Series, which also includes Soakers, HotSoaks and Air Baths. DriftBath features dozens of water-only ports located in the backrest and foot areas of the bathing well, with each port individually releasing a delicate ribbon of moving water. The combined effect of the many individual streams creates a gentle wall of water that flows in one direction, forming a soft current that simulates the experience of sitting in a calm stream.
By contrast, in typical whirlpool and air bath systems, a mixture of air and water pushed into the bathing well creates movement in the water, which generates hydrotherapy. The DriftBath eliminates air induction and minimizes turbulence in the water for a quieter, more serene bath.
Additionally, the DriftBath pump and motor are integrated into a single unit that captures the heat energy it generates and infuses it into the water. This energy-efficient feature eliminates the need for a separate, in-line heater to maintain the bath's warmth. Also, water traveling around the motor mutes its sound and vibration.
Aquatic's award-winning Delicair utility basin is ideal for washing delicate clothing and even small pets. A luxurious yet practical amenity, the Delicair has an air bath system based on the same technology used in some Aquatic hydrotherapy tubs. It also is offered with an automatic purge cycle that starts shortly after each use to rid all water from the unit's plumbing, ensuring years of maintenance-free and hygienic operation.
IBS attendees can see and experience DuraCore, DriftBath and Delicair in Show Village's Aurora house, one of three homes that will be built outside the convention center to showcase construction and design excellence as well as today's best products in an installed environment.
Provided by Greenfab Homes, the 2,100 square-foot Aurora fuses the clean lines and simple textures of mid-century modernism with beautifully engineered products and technology to create the home of the future.
Aurora's second-floor bathroom, decorated in this case for children, has darker, cool-toned floor tiles that sharply contrast with white fixtures, which include Aquatic's 260330S DuraCore tub-shower in the new, bright and high gloss White.
The master suite bathroom on the third floor is a true sanctuary with ample open space and spa-like amenities. Full of natural light, this room likewise has dark, cool-toned tile flooring and white walls, providing the perfect backdrop for a glass-enclosed, walk-in shower and Aquatic's sleek and sophisticated Serenity Studio 35 in White featuring the DriftBath system.
The Delicair utility basin completes the home's laundry room.
"Aquatic offers an integrated solution for the Aurora home's diverse needs," said Johnny Hartsfield, Founder and Partner, Greenfab Homes. "The company's products perfectly complement our house's clean and modern design character. From the functional and durable tub-shower for kids to the elegant, relaxing DriftBath tub for adults, there's something for everyone."
About Aquatic
Born from the 2010 merger of Lasco Bathware and Aquatic Whirlpools, Aquatic is the world leader in bathware, offering the broadest and most inspiring selection of tubs, showers and accessories. The company's Hydrotherapy, Everyday and Accessible lines include more than 300 superbly designed and engineered products for virtually every need. Based in Anaheim, California, Aquatic serves distributors, builders, architects, designers and consumers through a nationwide network of state-of-the-art facilities for manufacturing, distribution and support. For more information, visit http://www.aquaticbath.com.
# # #