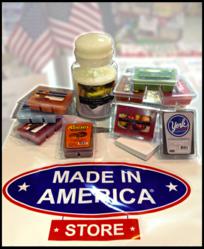 Mostly Memories Candles, with their soy-blend waxes, lead-free wicks and the varieties of aromas are 'Gifts that make scents
Elma, NY (PRWEB) January 18, 2013
The Made In America Store is proud to announce the expansion of their Home & Living Department by adding new products from Mostly Memories. The soy-based candle company, Mostly Memories, is bringing over 40 different varieties of soy melts to the Made In America Store.
The Made In America Store; 3,500+ products from over 350 vendors that bring 100% U.S. manufactured items to one location.
The soy based wax melts from Mostly Memories come in multiple varieties including Almond Soufflé, Apple Gingerbread, Berries & Cream, Caramel Pecan, Chamomile Rain, Christmas Cinnamon, Cinnamon Danish, Citrus Garden, Comforts Of Home, Cranberry Compote, Cucumber Water, Fluffy Blanket, Fresh Apples, Hawaiian Wedding, Hazelnut Cappuccino, Holiday Cheer, Indonesian Pomegranate, Japanese Cherry Blossom, Lavender Vanilla, Lemon Bar, Lucy's Garden, Night Blooming Jasmine, Orange Spice, Orange Vanilla, Peppermint Bark, Pineapple Upside Down Cake, Pink Cupcake, Planet Breeze, Pumpkin Pie, Santorin Breeze, Spiced Berry Spruce, Sugar Cookie, Tropical & Orange, Vanilla Cream, Violet Blossom and Warm Apple Strudel.
100% American made soy-based candles and melts from Mostly Memories at the Made In America Store.
Mostly Memories also carries an exclusive soy melt line for consumers with a sweet tooth! These scents include Hershey's Syrup, Milk Chocolate, Reese's Peanut Butter Cup, York Peppermint Patty and Jolly Rancher's Blue Raspberry, Cherry, Grape, Green Apple and Watermelon.
Originally, Mostly Memories brought Lid Light Candles to the Made In America Store which comes with an additional candle in the glass lid of the container. The double candles, or "Lid Lights," can come in over 40 different scents and consistently change with the seasons. Consumers can enjoy scents ranging from flowers of "Cherry Blossoms" to sweeter, cookie scent like "Grandma's Kitchen."
The hand-made candle company started back in 1993, and actually started by manufacturing scented greeting cards in their attic. The company is located in Springfield, Missouri, and now has a product line spanning one-of-a-kind candles and bath & body products.
Today, Mostly Memories is owned and operated by David Aquirre. David's wife, father, father and mother-in-law continue the tradition of keeping the family business operated by helping with the company. The Made In America Store prides itself on keeping the quality American made products. Currently, the Made In America Store stocks its shelves with products from over 290 privately owned businesses.
The Mostly Memories facility, that is located in Southwest Missouri, manufactures its candles all hand-made. The candles are made with environmentally safe soy-blend wax and use lead free wicks.
"Mostly Memories Candles, with their soy-blend waxes, lead-free wicks and the varieties of aromas are 'Gifts that make scents'," says a Mostly Memories Representative.
The Made In America Store is the only brick and mortar store that sells 100% made in the United States products from over 350 vendors. Consumers can visit http://www.MadeInAmericaStore.com or call 716-652-4872 to get more information or shop our catalog of over 3,500 items. Both Active Duty Military Personnel and U.S. Military Veterans receive a 10% discount every day. Followers of the "Made In America" movement can keep updated with the Made In America Store through Facebook, Twitter, Google+, Pinterest, FourSquare and even their own blog on Wordpress!