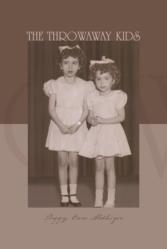 It is possible to be raised in an unloving world and learn to be different from that and to love.
ROANOKE, Va. (PRWEB) January 19, 2013
Abandoned by a mother who would not care for them, lost by an alcoholic father who could not care for them, two little girls were placed in the welfare system of the 1940s. The neglect and abuse they suffered is now revealed in The Throwaway Kids, the true account of Peggy Aldhizer and her sister, written in Peggy's own words.
From the age of 2, Peggy learned that her parents would choose their own lives and vices over the needs of caring for their children. When her mother left her abusive, alcoholic father, she simply chose not to take her children with her. Not long after, the welfare system removed the two sisters from their father. Once there, the girls' horror grew worse. Placed with a couple who used them as laborers, the sisters were often not allowed in the home and were excluded from all holidays. The mental abuse from these foster 'parents' furthered the little girls' separation from society.
"I have had this deep need to share our story for my entire life," says Aldhizer. "We were lost children, thrown away first by our parents then by the foster care system." Now a successfully married woman and mother, who has gone on to lead a fulfilling life, writing The Throwaway Kids was one piece of the puzzle she wanted to complete. "I researched court records and documents about my parents and now have been able to find some closure to the whole ordeal."
The Throwaway Kids is not only an outlet for Peggy to share her story, but also a way to reach other people who have lived through their own neglect and realize that there is hope for a better life.
"My sister and I decided we were going to be better spouses and better parents," says Aldhizer. "It is possible to be raised in an unloving world and learn to be different from that and to love."
The Throwaway Kids
By Peggy Aldhizer
ISBN: 9781452537672(sc)
Paperback 6x9, retail price: $9.77
Hardback 6x9, retail price: $19.77
Available at: http://www.amazon.com and http://www.barnesandnoble.com
About the author
Peggy Aldhizer was raised in Cincinnati, Ohio where she was placed in foster care with her sister at a young age. She now lives in Roanoke, Virginia where she has been happily married to the same man for 51 years and counting. She and her husband own a tree cutting business and were also Civil War re-enactors for many years, writing programs and traveling to perform them at schools and conventions. She has a son and a grandson and loves working in her garden.
# # #