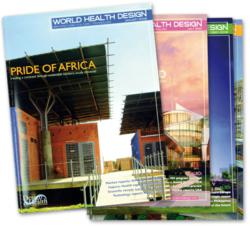 London (PRWEB UK) 17 January 2013
Graphic Evidence has completed the innovative and functional magazine design of World Health Design (WHD) since 2008. Creative and engaging magazine design is of Graphic Evidence's specialities and the creative marketing agency originally created and constructed the template design of WHD.
Commissioned by the International Academy for Design and Health, WHD is published quarterly and distributed around the world to promote advances in the fields of design and health.
The WHD editorial team join Graphic Evidence's magazine designers prior to the publication of each issue to work together on the editing, design and preparation of the magazine for print. Graphic Evidence have enjoyed created and constructing the template and design of each issue, culminating in this year's twentieth edition together in January 2013.
Graphic Evidence, creative marketing company based in Loughton, offers a range of services in design and marketing. Though they are specialists in branding and website design, Graphic Evidence have considerable expertise in magazine design, print design, packaging design and public relations.
To find out more or to view their extensive portfolios please visit http://www.graphicevidence.co.uk