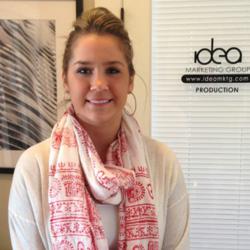 I'm excited to begin this journey into my career, especially with the team at Idea
(PRWEB) January 19, 2013
New intern Chelsie Kliese is working on completing her fourth year at Aurora University with a double major in business and marketing. Filling her requirements she has jumped on board with Idea Marketing Group in Oswego in hopes to learn more and bring her personal brand of creativity to the table.
Idea is located in the heart of downtown Oswego and is prepared to challenge Chelsie with tasks that exercise her existing knowledge as well as bring on new tasks in which she has not yet experienced. There is an obvious value of an internship to a student, but there is also value for the company which is utilizing the intern. Benefits of interns are that they provide a current and up-to-date view of current trends in the industry, and that they are also a great preview for upcoming candidates of applicants. Having an intern is an investment but they are greatly beneficial.
President of Idea Marketing Group, Darren Fox, decided to bring Chelsie on the team as an intern in hopes that she will have new ideas to contribute to the team while also expanding her abilities. The things that Chelsie will work on will give her a better understanding of what the industry expects from its new hires and better prepare her for an upcoming career in the marketing field.
As Chelsie plans to contribute to Idea, there is an equal return that Idea can provide to her. According to an article by Angus Loten on INC.com he states that "as many as 62% of college hires last year came from an internships, employers said." This is significant because it reiterates how the experience is valuable to both parties and provides an experience like no other. Both Chelsie and Idea are excited to start working.
If there are any questions on Chelsie Kliese or Idea Marketing Group please visit http://www.ideamktg.com or contact Idea Marketing Group at info(at)ideamktg(dot)com